This Phemex review is part of the #LetsReviewPhemex contest. I'm just being honest and transparent here so you're clear about my intentions from ground zero.
Now, I'm not "promoting" or trying to sell Phemex to you. I only wish to get you a very transparent, detailed, and honest review of Phemex. I'll walk you through the features, the problems, and my own experience with the company.
That said, I must say Phemex is one of the most privacy-respecting (no KYC) , innovative (subscription plans), feature-rich, and cheapest Bitcoin trading platforms (free trades) today.
It did sound like a "promotion" but as you read on, you'll see every word mentioned earlier has a very solid backing to it.
Hey, if at the end of this Phemex review you feel it's worth your time, go with it, else don't. Above all, getting you resources which actually help "you" rather than the companies is what has always been the goal.
Here's everything I'm discussing in this Phemex review:
KYC requirement
Welcome bonus
Security features
Trading fee
Minimum deposits/withdrawals
Fiat purchases
Earn free crypto
Simulated/demo trading
Supported countries
Live chat.
Let's get started then?
Phemex Overview
Phemex is run by a team of 8 Morgan Stanley executives. On top of that, it sees an average of $1,100,000,000+ trading volume every single day! In fact, over 300K orders are executed per second!
These numbers are important. They tell us it's not a new player in the grounds. People know, use and trust Phemex (you don't have to, yet!)
It's also registered with the Financial Crimes Enforcement Network Department, U.S (verify here). Now, while it's not a "massive" trust-boost, it does help add legitimacy to a company, doesn't it?
As for the rest, here are the primary features Phemex brings with itself: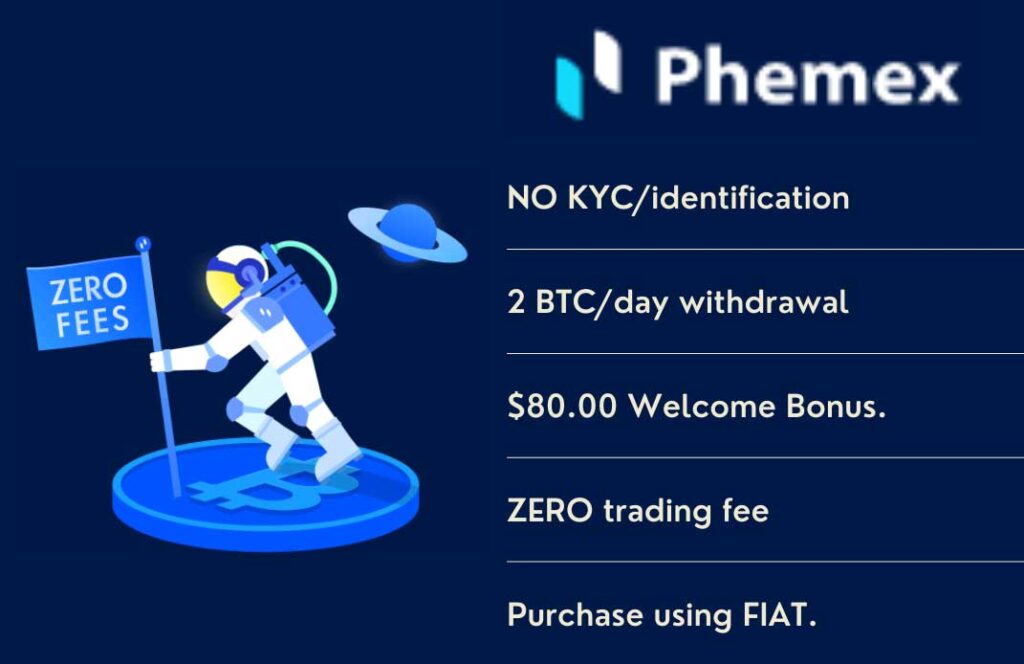 Website: https://www.phemex.com/
KYC/identification: Not required at all.
Standard trading fee: 0.1%
Subscription: $0.22/day (enables 100% free trades)
Fiat purchases: Yes (Cards/banks/Apple Pay/ OTC)
Welcome bonus: $80.00
Live support: Yes
Apps: Android/ iOS
If those features above interest you, I'm sure this Phemex review will only add to that interest.
No KYC required
Phemex allows depositing funds, trading with them, and even withdrawals without any KYC whatsoever .
This is one of the rarest features (given how most govts. are trying to restrict or control crypto) that it offers.
In fact, Phemex doesn't even have a KYC/identity verification feature! You're allowed a 2BTC/day withdrawal on these accounts.
This massively increases your anonymity and privacy. It also has a number of financial (taxes) and personal benefits (no one knows how much funds "you" own in Crypto).
You only need an e-mail ID to signup! It literally takes seconds and you can start trading crypto right away.
$80 Welcome bonus
I've never seen a trading platform offer "welcome bonuses" before, have you?
Phemex offers a straight $60.00 bonus if you deposit USDT 2000+/ 10000+ XRP / 10 ETH/ 0.2BTC or 500+ LINK.
Then you get an additional $10.00 for placing a single spot order >500 USDT. Finally, an additional $10.00 bonus is offered on spot trades when the placed amount is >+5000 USDT.
Do note that you can't "withdraw" this bonus (I'm just being transparent here). You can use it to open trades, pay trading fee, or cover losses.
Even then, free $80.00 that you can actually use? That's unprecedented and deserves praise, doesn't it?
Security features
Phemex is extremely anonymous, but, is it "secure"? Now, I'll discuss security in two parts. First, I'll discuss your "account security". How hard/easy is it to hack into your Phemex account.
Second, I'll discuss Phemex's security in general. Are your funds safe with the company? We'll see.
Account security
For account security, it offers three of the most secure features in the industry:
Withdrawal lock
2-FA via Google Authenticator
E-mail 2-FA
The withdrawal lock is only triggered when a password change is detected. It disables withdrawals for 24 hours after a password change.
This makes sure that even if your account is breached, you get a 24-hour warning period during which you can regain access.
You can also set 2-FA via Google Authenticator. This would send an OTP to your app every time you try to log in. Using Google Authenticator makes sure you do not have to share your number for the OTP, hence keeping your identity safe.
Or finally, the e-mail too can be used as a 2-FA for your account.
Phemex back-end security
Phemex assigns a cold wallet to each user account. Then, these deposits are locked in a multisignature, cold-wallet.
Being multi-sig, even Phemex employees don't get unrestricted access to the funds in the wallets.
Apart from this, network security, engine security, and everything else is taken care of as well.
In a nutshell, I don't see many things to complain about when it comes to account or back-end security from the company.
Zero trading fee
This is one of the most impressive and unique aspects on this Phemex review. It's the only trading platform which offers a "zero trading fee" feature, based on a subscription model.
I do not wish to mislead you, so know that it's not exactly free. The standard trading fee on Phemex is 0.1%, for both the makers and the takers. This I believe is pretty acceptable and what most other crypto trading platforms charge anyway.
However, you can essentially make all your trades absolutely free by opting for its "subscription packages".
It has this premium package which starts at less than $0.22/day ($19.99 for 3 months). It also enables you for limitless withdrawals and hourly withdrawals!
Is it a profitable deal? Yes if you're a day trader. Let's say you trade with just $1000.00. Even if you take just 1 trade/day, you'll be spending $1.00 on each trade with the standard (0.1%) fee. That's $90.00 for 3 months.
In the real-world, you'd probably place more trades and trade with more money. That's easy $150-$200 in trading fee for 3 months, isn't it?
On the other hand, for just $19.99, you get unlimited trades, irrespective of what's your trade size! That's profit by a pretty big margin.
The premium membership also unlocks "conditional" trades for you! When done right, that's a money-maker by itself.
Hey, don't take my word for it. Here's 67 days of free premium trial! Go check it out?
(You get 7 days for signing up, 30 days for following/tweeting about Phemex and another 30 days for meeting some other conditions).
Minimum deposit/withdrawals and fee
Can you only deposit bigger amounts? No! Phemex allows deposits as small as 0.00000001 USDT! Even for Bitcoins, deposits as negligible as 0.00000001 BTC are accepted.
Will Phemex lock your smaller profits/withdrawals? It won't. It allows withdrawing as low as 0.002 BTC / 2 USDT / 0.05 ETH/ 0.05 ETH and so on.
Note that the minimum deposit/withdrawal requirements depend on the exact coin you're working with. However, for every single one of them, the limit is set very low.
As for the fee, deposits are free. Withdrawals do incur a fee, however, it's pretty acceptable as well. BTC withdrawals cost 0.0005 BTC, USDT costs 10 USDT. For other coins, the fee is shown when you withdraw your funds.
Fiat purchases (Cards and OTC)
If you've ever wondered where to buy Bitcoins, the answer is Phemex. There are many other crypto trading platforms you can use. However, Phemex offers some of the cheapest rates in the industry (OTC trades).
The three primary modes of payment include:
Cards (Simplex / MoonPay/ Mercuryo)
Bank transfers (SOFORT/SEPA/iDEAL/PayID etc.)
And even Apple Pay!
The fee depends on the provider you go with.
Although, the fee on these companies is generally pretty high 3-5%. To counter the same, Phemex also brought in OTC trades!
You can trade with other real people on the platform. The prices for these trades are generally much lower, starting at around 0.08% (depending on the transaction amount).
The only catch with OTC trades is, these can only be performed by KYC-verified accounts.
Also, the minimum trade size for OTC is set at $500.00 while if you use the payment processors mentioned above, funds as low as $25.00 can be purchased as well.
Supported countries
The last aspect I'd like to discuss is supported regions. Is Phemex available for you? Well, Phemex is available everywhere except :
USA
Québec (Canada)
Singapore
Cuba
UK
China
Hong Kong
Republic of Seychelles
Crimea
Sevastopol
Iran
Syria
North Korea
Sudan
And Bermuda
Live chat
One of the most important features on Phemex is its 24X7 live-support. Trading is a risky business, isn't it? You may require assistance at any given moment and it may be an emergency.
Fortunately, their live chat is not only available, but also responsive and helpful. Do note that you initially get connected to a bot. Simply type "connect me to a human" and you're redirected to a real person.
The connection time is less than 10 seconds. The response times are even lower. So yes, I'm happy as far as its live-support goes.
Earn free crypto
Phemex also allows you to earn free crypto. It's in many ways similar to Staking if you're familiar with the term.
In simpler words, you get paid simply to hold your funds on Phemex. There are no lock-ins either!
It offers a "flexible" deposit mode and a "fixed" deposit mode. On the flexible deposit, you get a lower interest rate (7% APY) but you can withdraw the funds at any time you wish.

The "fixed" deposits are locked for specific amounts of time, but offer a higher (10% APY) interest on your deposits!
Simulated/demo trading
Maybe you're new? Don't wish to risk your hard-earned cash? Phemex offers simulated trades for free!
You can practice, see how investments turn out, or just test out new strategies/patterns.
This sure isn't a deal-maker by itself but it sure adds to the decision, doesn't it?
Phemex pros and cons
I'm about to wrap this Phemex review up. Let's talk of its best and worst features?
Pros:
No KYC
0 trading fee
Fiat allowed (via third-parties)
Welcome bonus.
Cons:
Phemex review- Final verdict
So, should you use Phemex? Well, here's the outline. It doesn't ask for any documents whatsoever, offers $80.00 for free, and offers (almost) completely free trades. Those three alone are strong reasons to go with it, aren't they?
But then again, the fact that it doesn't have many coin pairs may hurt some of you. Especially those with a diverse portfolio.
In my opinion, that's a very manageable problem when weighed against all the benefits it's offering. If you agree, go signup and grab your $80.00 welcome bonus. If you don't, check my other piece on the best BTC trading platforms for more options.