This list will help you choose the best Bitcoin trading platform in 2023. Even if you don't own any Cryptocurrencies yet, these platforms also serve as the best places to buy Bitcoins.
Here are the factors I've considered while compiling this list:
Anonymity/privacy (KYC requirements)
Fee (Trading/ fiat deposits/withdrawals)
Security features (for accounts, as well as the trading platform in general)
Geographical restrictions (countries these are available/not available in)
Coin pairs (if you "trade", you need to have the right coin pairs, don't you?)
Payment modes
Other features (Staking/welcome bonuses/ discounts etc.)
If you feel those are the factors important to you when choosing the best Bitcoin Bitcoin exchange , this piece is exactly for you.
The 6 Best Bitcoin Trading Platforms In 2023
I've used most of these platforms personally before enlisting them here. As a result, the following list has not just the facts or claims, but also my own experience.
These are the best places to trade Bitcoins in 2023:
CEX.io- Best in terms of security.
Binance- Best overall (Privacy/anonymity/maximum coin pairs etc.)
Poloniex- No KYC trades
Phemex- No KYC Trades
Kraken-  No KYC for crypto trades
Coinbase- Exchange turned Bitcoin trading platform.
Let's get you some Crypto then?
1. CEX
Website: https://cex.io/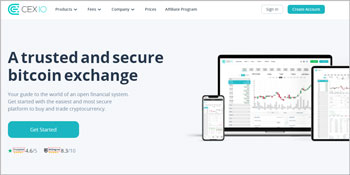 CEX is not just a Bitcoin exchange but literally the best Bitcoin trading platform (in my opinion). It's an exchange because it allows buying/selling BTC via nearly half a dozen fiat modes. It's a trading platform because it supports Spot and Margin trading.
But first, let's see what makes it special.
For starters, it's been here for nearly 8 years now! During that time, exactly $0.00 customer funds have been lost. On top of that, it has over 4 million registered users (myself included).
Another factor we should consider is its global availability. Unlike most BTC trading platforms,  CEX is actually available in almost all the countries and states on the planet (a few exceptions sure exist).
Don't own any  yet? You can buy Bitcoins using credit/debit cards on CEX! It accepts deposits as small as $20.00. You don't get locked out of withdrawals either. Again, amounts as small as $20.00 can be withdrawn!
 It's not limited to "cards" either. You can even buy Bitcoins using :
Swift
 Qiwi
Skrill
Epay
 Advcash
 Faster Payments
 SEPA
ACH
 and even wire transfers!
Is using CEX expensive? Not exactly! The deposit fee depends on your payment method. If you deposit using SEPA, SWIFT, Epay, Advcash, Faster Payments, or Wire transfers, deposits are absolutely free.
See how I wasn't exaggerating when I said it's the best Bitcoin trading platform yet?
For card deposits/purchases, there's a 2.99% fee. The only other higher fee is for Skrill payments, priced at 3.99%.
It even allows withdrawals via cards and most other deposit modes! The withdrawal fee is based on the "type" of card (VISA/Mastercard). It's 1.8% and 2.5% for Mastercard and Visa respectively. Still pretty cheap, isn't it?
For other modes, it's mostly free. The highest withdrawal fee you pay is 2.49% if you withdraw via QIWI.
A few bucks additional commission too may be levied  ($1-$3) based on your mode and type of withdrawal.
As far as trading goes, it follows the traditional maker-taker fee model. For new users, you'd start by paying 0.25% as a taker and 0.16% as a maker. This is at par with what most other exchanges (even less feature-rich ones) charge today.
Eventually, the fee lowers to 0.10% for the makers and 0.00% for the takers based on your trading volume.
Does CEX require KYC verification? Yes it does. It has 5 identification levels. Identity / Address and the other two are for very heavy traders.
I'll be honest, it's "not anonymous". Now, it may hurt some of you. It sure hurts me. But then, there's almost no other exchange offering as much security and professionalism as CEX so I guess it's a fair trade.
It helps to get verified as well. The higher your verification level, the more you can deposit/withdraw per day.
Finally, CEX also supports staking. In other words, you can earn interest for holding your funds in the CEX wallets. The interest-rate depends on the Cryptocurrency(ies) you're holding. However, it can go as high as 20% for certain coins (e.g. ZIL/ MHC).
These funds aren't locked either! You can Stake your coins, and trade with them at the same time!
Pros:
11 fiat deposit modes accepted.
$20.00 minimum fiat deposit/withdrawal limit.
Staking
Very secure
Very low deposit/withdrawal/trading fee.
Globally available
Cons:
2. Binance
Website: https://www.binance.com/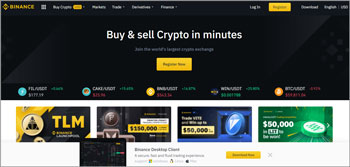 Binance is quite literally the best Bitcoin trading platform for three reasons. First, it offers anonymous, no-KYC trading. You can signup right away and start trading. It being based in Malta is one of the reasons why it can offer the liberty it does.
Second, it's "the" most feature-rich exchange on the planet (read the last few paragraphs in this section to get an idea). And third, it's the biggest exchange by numbers
It sees an average trading volume of $2billion/day! On top of that, nearly 1.4million transactions happen on Binance every second! No other exchange comes even close to these numbers.
It's also one of the very few no-KYC exchanges on the planet for now. Every new user, without any verification, gets a level 1 account. This account allows you 2BTC withdrawal/24 hours. Hey, we all love anonymity, don't we?
Now, being so big, Binance is so much more than just an exchange. For starters, it also helps you buy Bitcoins anonymously.
That's because it not only allows buying Bitcoins using cards and bank deposits, but also has a P2P exchange.  So, you buy from other real people.
The payment modes are decided by you and the other party and hence it's tad-bit more anonymous than using the traditional cards and banks. Over 100 different payment modes (e-wallets, direct transfers, gift cards, coupons and a lot more) can be used to buy/sell BTC on Binance.
If you do choose to deposit/withdraw via cards, the payments are processed via Simplex. There's a 2.5%-5% fee with the minimum fee being $10.00.
It's also the largest Bitcoin exchange in terms of coin pairs. You can trade almost all the major and minor coins on Binance.
The trading fee is a minimal 0.1% for both makers and takers (new users). As is expected, this decreases as your trading volume increases.
The good news is, you get a flat 25% discount on the trading fee if you hold BNB in your account. BNB is the official Binance Coin. And hey, it's a great investment as well. In fact, it has surged over 100%  in the past 3 months alone!
As far as the exchange interface goes, it's one of my personal favourites. It even supports leveraged trading in case you're a risk-taker (or, just experienced).
As for account security, you can enable 2-FA via Google Authenticator, SMS and also e-mail.  Even physical keys are supported.
It also has "Address whitelists". Once enabled, withdrawals are only possible to these addresses. Changing the addresses requires additional authentications hence making it secure.
Another feature I love is its "anti-phishing" code.  It's a secret PIN-like code, that you can set in your account. Once done, all future e-mails from Binance will have this code in the e-mail body. If the code is missing, the e-mail isn't from Binance.
You can even manage the devices for your account. See which devices have access and revoke unidentified devices if found.
Its "market trade" feature is another feature I love. It's not "unique" yet not a very common feature either. This allows you to buy/sell your funds instantly, at the current market price. Without this, you have to manually set limit orders which some may find a bit more manual, time-consuming and confusing.
As for countries, Binance is available in almost all the parts of the world. As far as trading goes, you can trade futures with up to 125x leverage! Furthermore, European-styled vanilla options is one of the rarest trades that Binance supports.
It even launched a new "game" of sorts. It's called "Battle". You guess the price (long/short) against another player to win points. These can be exchanged for real money.
As for KYC, as mentioned earlier, you can deposit/trade and withdraw funds on Binance without any mandatory verification. Getting verified helps lift the 2BTC/24hour withdrawal limit.
Binance also recently launched its VISA debit cards! In other words, you can spend funds from your Binance wallet at almost any shop/online merchant on the planet. There's no fee for using the card and rather you get cashbacks!
Binance too alike CEX supports Staking. You can hold funds in your Binance wallet and earn interest on the held amount. Interests go as high as 37% for coins like DOT!
Binance even allows staking the core assets like BTC, USDT, BNB etc. At 7% interest for an asset like Bitcoin, I'd say even this is more than generous.
Signup at Binance or download its native Android and  iOS apps in case you'd like to trade on the go.
Pros:
No KYC required.
Bitcoin VISA debit cards
Stalking
Maximum coin pairs available
Advanced security features
"Market" trades
25% fee discount using BNB
Android and iOS apps.
Cons:
The live-chat support time isn't always very fast.
3. Poloniex
Website: https://poloniex.com/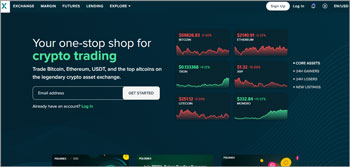 If you seek anonymity and are okay with a less feature-rich BTC trading platform than Binance, Poloniex is for you.
Poloniex requires absolutely no verification for depositing, trading or withdrawing funds. You enter your name and e-mail ID, verify your e-mail ID and you can start trading.
Even without any verification whatsoever, you get a withdrawal limit of $10000.00 /24 hours. Card purchases, lending and even futures up to 10x leverages are available for unverified account.
Yes it's not as good as the 2BTC/day offered by Binance, but hey, it's still enough for most of you searching for best Bitcoin trading platform, isn't it?
If the trading platform's location matters to you, Poloniex is based out of Wilmington, North Carolina.
It too allows buying and selling Bitcoins using fiat modes. Now it doesn't have a P2P exchange like Binance neither it supports as many payment modes as CEX. However, you sure can buy Bitcoins using cards, bank transfers and even Apple Pay!
The minimum allowed purchase is $50.00 and there's a 2.5% fee on card payments. Again, as it's processed via Simplex, $10.00 is the minimum fee required if the 2.5% doesn't meet this.
The trading fee even though is based on the maker/taker model, is the same for both the parties. New users start off by paying 0.125%/trade. Although, if you hold Tron (TRX) in your wallet, there's a 25% discount on this fee.
As hinted earlier, it too supports futures and margin trades in addition to spots. Lending too is available. Meaning, you can lend you funds to make money without having to trade.
Poloniex charges 15% of whatever interest you make from lending your funds as the lending fee.
The security isn't as impressive as Binance, however, it does support 2-FA via Google Authenticator. Additionally, all Poloniex accounts have e-mail 2-FA by default and that's pretty decent security as well.
If you do opt for KYC, the level 2 account requires address details and phone verification. It offers increased limits and 100x leverage!
Being completely honest, Poloniex doesn't have a "Market" trade feature. I personally find this to be a problem however you're free to form your own judgements.
One of the most impressive aspects on Poloniex is its live-support. While it's not exactly 24X7, it is available for the larger part of the day. The support team is pretty responsive and fast.
There are no geo-restrictions either. I mean sure you must confirm that trading or Cryptocurrency trading is legal in your country first. However, on Poloniex's part, there are no official restrictions.
Pros:
No KYC required
2-FA available
Margin/leverage trading
25% fee discount on holding TRX
Live-chat
Fiat purchases possible
Cons:
4. Phemex
Website: https://phemex.com/
Most of you on this page appreciate anonymity, don't you? Phemex allows depositing/trading and even withdrawing funds without KYC! This is true even for fiat purchases (even though "fiat" in itself kills all anonymity).
There are a few more perks which earn Phemex a run at being the best Bitcoin trading platform. For starters, it has this "zero trading fee" feature for spot trades. You can sign up for a "membership" (starts at $0.33/day) and then you get absolutely free trades.
Now, the platform offers 7-day (for signing up) and 30-day (for following on Twitter)  free trials for its membership plan!
Even the non-member fee, paid by general users is set at 0.1% which is pretty standard, isn't it?
Then, it offers up to $80.00 in welcome bonus! It's the only Bitcoin exchange on this list to do that!  You get the bonus by making a minimum deposit and placing trade orders which qualify its minimum requirements (e.g. $500.00+ single spot trade earns you $10.00).
As far as withdrawals go, it allows withdrawing funds as small as $2 USDT or 0.002 BTC. The withdrawal fee depends on the Cryptocurrency and the network used.
It does allow buying Crypto using cards, Apple Pay and even bank accounts (SEPA/ IDEAL/ SOFORT etc). You can either use Simplex, Mercuryo or Moonpay as your processor. Again, it's the only exchange to offer these choices.
It even supports OTC trades! This further allows you to sell or buy Bitcoins using fiat modes, at a much lower price (approx. 1.5%/trade ) than using the credit card/bank deposit modes on Phemex.
Finally, for security, you can enable 2-FA via Google Authenticator or e-mail. A fun-feature is its simulated trading. If you're just getting started with crypto trading, you can use this to trade using a demo account without risking any real money.
While there are no geo-restrictions, OTC trades aren't available for some countries (e.g. U.S). Also, if you wish to own a more diverse portfolio, it's best you go with Binance or CEX. Phemex has comparatively fewer coin pairs.
Pros:
No KYC required
Cold storage for funds
$80.00 welcome bonus
Zero trading fee possible
OTC trades
Cons:
5. Kraken
Website: https://kraken.com/
Kraken may not be the absolute best trading platform for Bitcoin but it's without doubt one of the top 5 options.
For starters, it does offer privacy to some extent. You can deposit/trade and withdraw Cryptocurrencies without KYC verification. Note that this is limited to "cryptocurrencies", for fiats, identification must be completed.
It too offers OTC trades. You can buy/sell fiats and crypto with other real human beings on Kraken. The only problem is, Kraken has a massive $100K minimum requirement for OTC trades.
Instead of OTC, Kraken also supports of a number of direct deposit modes. You can fund your Kraken accounts using SWIFT, Etana Custody, Fedwire, Silvergate etc.
Obviously, card purchases are available as well. There's the standard 3.75% fee + €0.25 for all card purchase. The smallest amount you can deposit is €10.
While the card purchases are available for almost anyone in any country, a few restrictions do exist.
As for the trading fee, there's a 0.16% maker and 0.26% taker fee for new accounts. This goes down to 0.00% for makers and 0.10% for takers if you reach the required trade volume.
As far as fund and account security goes,  the company uses cold storage for 95% of its funds. 2-FA is available via both Yubikey and Google Authenticator. It even allows a "Master Key" which can be used to recover account if you lose access to your Email and/or 2-FA.
It allows over 10 coins to be staked as well. Even core coins such as BTC, ETH and USDT can be staked. The interest rates aren't very impressive although they're paid twice a week so that's a win.
And finally, there's a 24X7 live-chat which does help you out with basic problems.
Pros:
No KYC for crypto trades
Staking
Supports almost all countries
Live-chat
PGP-signed emails
Cons:
Staking rewards could be improved.
6. Coinbase
Website:  https://www.coinbase.com/
Coinbase is hailed by many as the best Bitcoin trading platform, while I do not agree it being "the best", it sure is one of them.
Now, Coinbase was earlier just a Bitcoin exchange. As in, it allowed buying/selling crypto using fiat modes. It launched Coinbase Pro a few years back, this is Coinbase's entry as a full-fledged "trading platform".
In terms of trading volume, it sees over $335B in quarterly trades. A very impressive number which inspires trust, right?
My only problem with Coinbase is its mandatory KYC requirement. In order to  "trade", you must verify personal information using govt. ID cards. The free accounts can still send/receive Cryptocurrencies but trading isn't allowed.
If you're asking where to buy Bitcoin, Coinbase is a potential answer. It allows buying funds using PayPal, Wire transfers, cards and bank accounts. The fee you pay will depend on the deposit mode used.
Now, the trading fee is comparatively higher than what most other exchanges are charging. The fee you start with is 0.5% of all trades, both for makers and takers. Obviously it decreases (up to 0.04% for makers and 0.00% for takers) as your trading volume increases.
Staking is available on Coinbase as well. Currently, the highest interest can be earned by Staking ETH at the rate of 7.50%/year.
In case you're a mobile person, Coinbase is available both on Android  and iOS.
Do note that  Coinbase isn't "global". It is, but with quite a few restrictions. E.g. payment (deposit) modes heavily depend on where you're based out of. Also, which coin pairs you can trade depends on your location.
Coinbase is pretty secure primarily because it stores over 98% of its funds in cold storage. This eliminates the risks of losing funds via hacks and system failures.
Pros:
Trustworthy and established
 Fait to crypto purchases possible
Cold storage
Cons:
Higher trading fee
Mandatory KYC
Final verdict- Which is the best Bitcoin trading platform in 2023?
CEX.io and Binance are the unbeaten monarchs in the crypto trading game. They're also the most well-established, reputed and trustworthy.
Phemex is recommended if you need the welcome bonus or wish to enjoy its "free" trades.
All the other options allow you to trade Bitcoins as well and have their own pros and cons as listed respectively.
In a nutshell, I believe you must've found your new best Bitcoin trading platform by now? Go make some money then!
Disclaimer
This article is not financial advise. It's meant purely for educational and research purposes. Any profits and losses, both legal and financial are solely your own responsibility.