This list includes 9 best VPN for dark web. The first VPN is even custom-tweaked for deep web browsing! The others too offer the maximum security, speed and features in the industry.
If you're here, you obviously know that just TOR isn't enough! It can be (and has been) hacked, traced back to you and lead you to trouble.
So, here are the factors based on which I've compiled these best VPN services 2021:
Dark web optimization/features
Speed (based on personal experience/ protocols/ bandwidth providers etc)
No log policy
Headquarters/Jurisdiction
Additional features (Obfuscated servers/ Split tunnels/ Multihop)
No. of countries
Simultaneous connections
Pricing
Support quality
Refund policy.
If you feel these features are what you check as well, you'll find your best VPN for darknet here.
1. NordVPN
Website: https://nordvpn.com/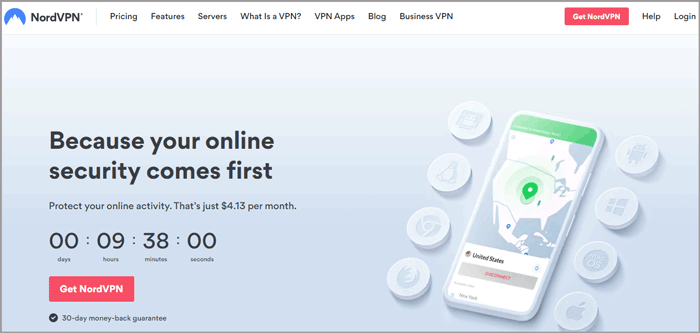 NordVPN is the best VPN for dark web, period! I'll give you very solid reasons why.
First, it got its "no log" policy verified by an independent, third-party auditor, TWICE. This literally GUARENTEES that they do not, can not, store logs.
This is the biggest factor you should look for in a VPN service for the dark web.
There have been numerous instances of other VPNs sharing data with the FBI and other agencies. That just can't happen with Nord.
Even in terms of legal jurisdiction, it's based out of Panama! That's one of the most privacy-friendly nations on the planet and out of the easy dominance of the US/UK.
Secondly, it's the only VPN which offers a custom dark web feature; the "Onion over VPN" setting. This feature allows you to connect to the Tor network even without the Tor browser!  That's a major reason why I believe it's "the" best VPN for Tor. It's the only VPN on this entire list (and probably the industry) offering this!
Third, it's literally the "fastest" VPN on this entire list as far my experience goes. I've used over 50 big and small VPNs in the industry till date. None come even close to Nord's speeds, especially on the dark web.
There's almost no speed drop! That's a big, very rare factor when it comes to VPNs. It's not just "opinion", there's facts to it too. NordVPN is one of the very (very) few VPNs offering the "WireGuard" protocol. This is a one of the fastest protocols in the industry.
Every NordVPN account can be used simultaneously with up to 6 users. It even supports "Split Tunnelling". This allows you to route specific apps/browsers via the VPN and exclude others.
Another rare feature is its "Obfuscated servers". This masks your VPN connection to look like a normal connection! As a result, you can bypass even heavily censored regions such as China!
Yet another rare feature is its "Dedicated IPs". You can get yourself one personal IP address which will mask your location yet remain the same for each connection. It costs extra, however, most VPNs don't even offer the feature.
"Double VPN" is another feature you wouldn't find with most VPNs out there. It routes your connection via TWO different IP addresses! That's extreme anonymity and must-have for dark web browsing, right?
Fun time? It unblocks 15+ Netflix libraries (USA, Japan, Poland, Canada, France, Spain etc.) with a 100% success ratio. This isn't very common for most other VPNs out there.
Finally, there's CyberSec. It's a free ad and malware blocker. You can use NordVPN as a standalone application on Windows, Android, iOS, macOS, or as a browser extension.
And hey, it costs less than $0.5/month/user! The plans start at around $3.40/month, for 6 users! They even accept payments via Cryptocurrencies! Full anonymity, eh?
Not sure if it's truly the best? There's a 30-day moneyback guarantee as well! Use it for 29 days, if you don't like it or find a better deal somewhere, you get a 100% refund!
There's a 24X7 available, very responsive live-chat support as well. Show me a cheaper VPN with equal if not better features and speed, I dare you! 
Reasons why it's the best:
Independently verified no log policy.
6 devices simultaneously
Panama-based.
Double-VPN.
Extremely fast.
5000+ servers
Dedicated IP addresses
Unblocks 15+ Netflix libraries
Obfuscated servers
59 countries (and multiple cities) available.
CyberSec (Ad + Malware blocker)
Split Tunnelling
Deep-web optimized features
Cryptocurrency payments
Live-chat
30-day moneyback policy
Very cheap ($0.5/user/month).
Cons:
Try and find one, it's a dare!
2. ExpressVPN
Website: https://www.expressvpn.com/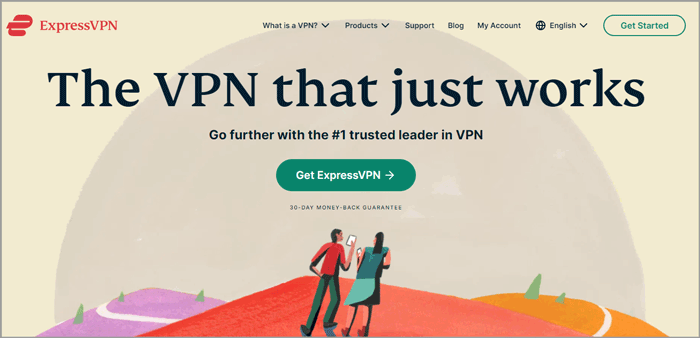 ExpressVPN is arguably the second most popular VPN on the planet. It offers 90+ countries to choose from when changing your IP address.
ExpressVPN too got itself audited by independent auditors. It was proved that it doesn't collect activity logs, IP logs or any other data which can be traced back to you.
It also supports Split Tunnelling. 5 simultaneous connections/devices are supported. The kill-switch too is available, branded as the "Network Lock", it's the same thing. If your VPN connection drops, the VPN blocks all internet traffic.
Its "TrustedServer" technology is unique and deserves praise. ExpressVPN doesn't use traditional servers. Rather, it's TrustedServers run on RAM only. All data is wiped permanently on each reboot.
As far as legal jurisdictions go, it's based out of British Virgin Islands. Despite being a British overseas territory, UK laws do not apply and it doesn't have a mandatory data retention law!
If I'm being honest, the speed isn't as fast as NordVPN and yet is probably faster than most other options on this list! Obfuscated servers too are available which make your VPN connection look like "not a VPN" connection!
It does unblock Netflix and other streaming services. It has an in-built "speed checker", not a "must-have" feature but it's still pretty handy.
There's also the 24X7 live-chat and ExpressVPN too accepts payments via Cryptocurrencies in addition to fiats.
The cheapest plan sells for $6.67/month which is still cheap considering it's for 5 devices ($1.3/month/user)!
Pros:
British Virgin Islands based.
Verified no log policy
Split Tunnelling
5 simultaneous connections
Cryptocurrency payments
Live-chat
Very fast speeds
TrustedServer technology
Unblocks a few Netflix libraries
Obfuscated servers
$6.67/month
30-day moneyback guarantee
Cons:
3. Surfshark
Website: https://surfshark.com/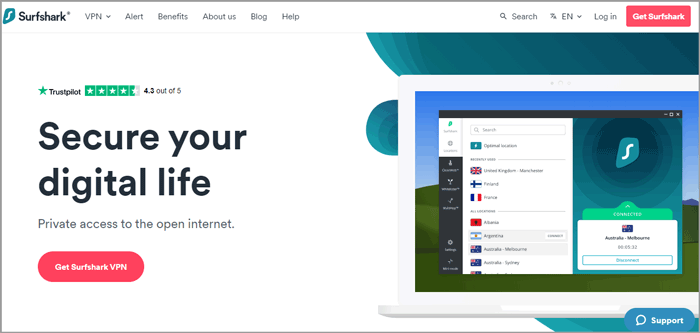 I've tried to only list the best VPNs for dark web, hence, Surfshark too has an independently verified "no log" policy.
The kill-switch too is available. It does support split tunnelling as well and has named that feature "WhiteLister".
The Obfuscated servers too are available, and again, rebranded as the "Camouflage mode". There's even a "NoBorders mode" which is like the obfuscated servers on steroids! When enabled, you can access content from and of almost every country on the planet.
One of the rare features is the Multihop. It routes your connection via 3 different IP addresses!
 One of the biggest features Sufshark offers is its unlimited connections! Well yes, you can use the VPN on any number of devices without restrictions!
The live-chat is not only available 24X7, but I'd say also is the most friendly and helpful of all! As far as country choices go, 65 options are available.
It also offers an ad and malware blocker. The dark web got too serious for you? It unblocks 16+ Netflix libraries as well, in addition to a number of other services.
The plans start at around $2.48 USD and is covered by its 30-day moneyback guarantee.
Payments totally can be made using Cryptocurrencies in addition to fiat modes.
Pros:
Whitelister (Split Tunnelling)
Camouflage mode (Obfuscated servers)
NoBorders mode (Obfuscated++)
Unlimited devices
Verified "no log" policy
Friendly 24X7 live-chat
Multihop
Cons:
4. PrivateVPN
Website: https://privatevpn.com/
It's a Sweden-based VPN and that's pretty desirable. It wouldn't be on this list of the best VPN for dark web if it stored logs, it doesn't, obviously. Do note that this isn't verified by any third-party.
You can connect every single PrivateVPN account on 6 devices simultaneously. It offers over 60 different countries to choose from.
Something that should help you on the dark web is the obfuscated server and that's available! Unfortunately, no split tunnelling or double hop are present for now.
The support is impressive not only because it's 24X7 available, but also because it's the dev-team directly. As in, the "support staff" is also the same staff which works on developing the VPN, educated folks.
They even offer free remote help for installation and with issues! Because of their HQN policy, they purchase their bandwidth directly from IP transit providers. This still isn't as fast as some VPNs listed above, however, is comparatively faster than majority of the VPNs.
It's available across all major OS including Mac, Windows, Android, iOS etc. Plans start at an affordable $2.50/month. Bitcoin payments accepted. 30-day moneyback guarantee too is available.
Pros:
Sweden based.
63+ countries
30-day refund policy
Fast
Obfuscated servers.
Crypto payments.
Cons:
No Split Tunnels
No multihop.
5. IPVanish
Website: https://www.ipvanish.com/
IPVanish is another zero log VPN. Now, it's based in the U.S. That may look like a major problem, fortunately, it isn't! IPvanish has been audited independently when it was acquired by is now-parent company.
It has an arsenal of over 7500 servers in 75 cities globally. Its "unlimited devices" policy sure eases the pain of it being a U.S based VPN. You can buy a single account and secure your entire city with it, the company won't mind!
Its paid versions also offer advanced features such as device sync, remote wipe and ransomware protection.
 While Split Tunnelling is available, it's limited to Fire OS and Android devices. Obfuscated servers and Kill switches are available as well. It doesn't offer multihop though (Hey, I'm just being honest and transparent).
Full disclosure? The speed isn't as good as NordVPN or even ExpressVPN. But, it's a feature-rich VPN and still with pretty "okay" speed.
The cheapest plan sells for $4.99/month. It doesn't accept Cryptocurrencies but you can pay using Credit cards or PayPal. There's a 30-day moneyback policy on its yearly plans as well.
Pros:
75+ countries
24X7 live-chat
Secure
Device-specific split tunnelling.
30-day moneyback policy.
Very advanced paid add-ons available.
Cons:
U.S-based
No MultiHop/Double VPN.
No Crypto payments.
6. CyberGhost
Website: https://www.cyberghostvpn.com/
CyberGhost asks and records the least possible amount of information from you, just an e-mail ID! This is what makes it a noteworthy contender if not directly the best VPN for dark web.
In addition to its no-log policy, it also publishes "transparency reports". This tells us the number of police reports, DMCA complaints and other requests they receive.
It has an arsenal of 7000+ servers and offers 90+  country options! It also offers a feature which lets you choose your activity, so you can choose "Netflix", "Hulu", "Youtube" etc. to unblock and access those sites.
7 simultaneous devices can be connected. The Kill-switch too is available. The speed is pretty impressive due to its support for WireGuard. An in-built ad blocker too is included.
It can be used on nearly every device, this includes Windows, macOS, Android, iOS etc. 
It's free to try! The cheapest plan is set at $2.25/month. This also includes the Cyberghost ID Guard, it a leak-monitor. The 45-day moneyback policy is pretty impressive.
Do not expect a lot from the live-chat though, it's not 24X7.
Pros:
Transparency reports
WireGuard available
90+ countries
7 simultaneous connections
45-day refund policy.
Cons:
No obfuscated server.
Live-chat not 24X7.d
7. StrongVPN
Website: https://strongvpn.com/
StrongVPN has quite a few strong features to its credit. For starters, it too offers the WireGuard protocol. Again, it's arguably the fastest of VPN protocols! This clearly means you wouldn't be disappointed with the speed.
Obviously there's a "zero log policy". Do note that it hasn't been audited by any third-party!
Its 12-device simultaneous connections further make it the best VPN for dark web. It lets you choose from 30+ countries and 59 different cities!
It doesn't offer Obfuscated servers or Double VPN, but does offer Split Tunnelling. For now, Split Tunnelling is limited to Android devices only.  The Kill-switch isn't available either.
There obviously are no speed or bandwidth caps. The cheapest plan starts at $3.33/month. There's also a 30-day moneyback guarantee available on annual plans.
Live-chat sure is available 24X7. Unfortunately though, it doesn't accept Cryptocurrency payments. On the brighter side, all plans offer free 250GB SugerSync storage. It's an encrypted cloud storage platform.
It's compatible on all major devices and OS including Windows, macOS, Android, iOS etc.
 Pros:
WireGuard protocol (Impressive speeds)
30+ countries
Split Tunneling (for Androids only)
30-day moneyback.
Cons:
No obfuscated servers
No dedicated IPs.
No kill-switch.
No cryptocurrency payments.
8. Windscribe
Website: https://windscribe.com/features
Windscribe has gained a lot of traction in the past few years. It obviously doesn't store any identifiable logs (not independently verified) .
It's one of the best VPN for the dark web especially because of a few additional features. For starters, there's a thing called R.O.B.E.R.T which lets you block domains and ads selectively.
There's a "split personality" feature which keeps rotating your user-agent. It adds more anonymity to your connection.
The location and time wrap features are impressive. They mask not just your IP, but also your GPS and time.
Then, it also allows "team accounts". Even dedicated IPs are available.  And if you access your bank account a lot, it also supports "Split Tunnelling".
It also has this "stealth" mode, which is like the obfuscated servers and masks your VPN connection. There's also an additional firewall you can use for security.
There's no cap on the number of supported devices either. You can connect your Windscribe account to unlimited devices!
The Double Hop as well as an ad-blocker is available. Finally, it offers over 63 countries to choose from.
It is based out of Canada, again, not my favourite location when it comes to privacy. However, considering it a no-log VPN, there isn't a lot of risk though.
To top it all off, there's a 100% free plan which offers 10 locations. It totally accepts Cryptocurrencies as well. While a live-chat is available, it isn't 24X7.
Pros:
Split Tunnelling
Ad/Domain blocker
Unlimited devices
Stealth mode
Cryptocurrency payments
Cons:
Live-chat isn't 24X7
Canada-based.
Vague refund policy
9. Private Internet Access
Website: https://www.privateinternetaccess.com/
PIA is one of the best VPN for dark web because it's simple. It doesn't offer a hoard of features and keeps it simple yet impressive.
For starters, it allows up to 10 devices to be connected to the same account! Also includes in-built ad and malware trackers.
It too offers the famed WireGuard protocol and hence the speed is better than most other non-WireGuard VPNs out there.
Needles to mention, it doesn't store any logs. It too, alike CyberGhost publishes a transparency report detailing requests and cases filed by law enforcement and third-party agencies.
Split Tunnelling too is possible. Dedicated IPs too are available if you pay a few extra cents. It offers a free password leak monitor, this is generally charged with most other VPNs.
It not only accepts Cryptocurrencies, but also "gift cards" for extreme anonymity. Fiats obviously are available as well .The live-chat is available 24X7 and is very responsive. 75+ country options are available.
It's pretty cheap with plans starting as low as $2.76/month. A 30-day moneyback policy guarantees you do not pay if you don't like it! It's operated out of Denver, Colorado.
Pros:
Transparency report
10+ devices
WireGuard
Dedicated IPs
24X7 live-chat
Crypto and gift card payments
Cons:
No Obfuscated servers
No multihop
VPNs to avoid at all costs
A few VPNs have been caught logging and sharing their customers' IP address and other details with law enforcement agencies.
This is why I always advocate going for a VPN which got itself vetted by an independent third-party, such as NordVPN.
However, no matter which VPN you go with, never go with the VPNs mentioned below:
Secure VPN
Rabbit VPN
Flash VPN
Fast VPN
UFO VPN
Super VPN
Pure VPN (It's very well-established and yet shared data with the FBI).
Final verdict- Which is the best VPN for the dark web?
NordVPN is the best VPN for deep web.
It's the only VPN which offers "Onion over VPN" feature for the deep web!  ExpressVPN, Surfshark and others listed above are totally worth a try as well.
Do note that it's best to go with VPNs with an audited/verified "no log" policy. The Double Hop is a feature you'd need on the deep web as well. Apart from that, most VPNs offer more or less the same features.
I do hope this list helped you find the best VPN for the dark web? Go now, get yourself some security both for the dark web and the clearnet!