DarkFox market review: Is this a product-rich and secure dark web market? That's what I'm discussing in this review today.
If you're into dark web markets or just need alternatives to Empire Market or Alphabay, this is for you.
Let's not waste time then?
DarkFox Market Introduction
DarkFox isn't a very old market, however, it certainly has made its mark in the industry.
It brought some very rare if not unique features to the industry. Let's start with an overview?
Onion Site Link:
DarkFox Mirrors:
Primary Features:
25000+ products

Cards Autoshop

Multisig Escrow

50% F.E (normal F.E too available)

BTC payments

$150.00 vendor fee

2-FA/PIN/mnemonic available

Very advanced search feature.
Let's get into the details then?
No registration required
It's worth a mention because this is rare.
DarkFox allows you to browse the entire market without registering! That means you can view the products, reviews, complete vendor details, and everything else without registration!
This allows you to check if the market has exactly the product you need. You can also check if a vendor is legitimate enough for you to deal with him/her.
Do note that registration still will be required if you wish to make a purchase.
User-Interface
I like the fact that DarkFox didn't experiment much with its UI. Things are simple and in sync with what most other darknet markets feel like.
As is traditional, you'll see the main screen divided into three main sections: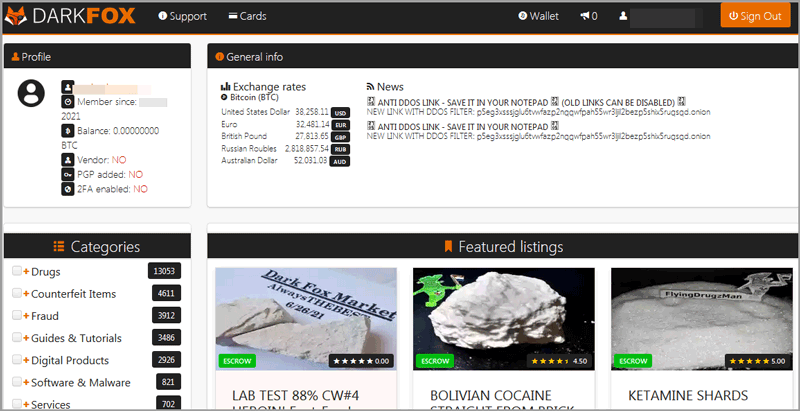 The top bar
The left-sidebar
And the centre-screen.
The top bar will give you account settings. Accessing your wallet, profile, and support center is made easy.
The left-sidebar shows first your profile data, then the product categories just below it. A very advanced search panel too is hosted on the left-sidebar which I'll review in detail in the later sections.
The rest of the screen is used to show the listed products. Pretty simple, isn't it?
Available products and services
This is one of the most impressive aspects on this DarkFox review. First because of its product stock, and second because of its categorization. I've never seen any other market categorize its products into such specific sub-categories.
The market has nearly 25,000 individual listings. The market is very new, despite that, the product quantity exceeds even some very old markets in the industry.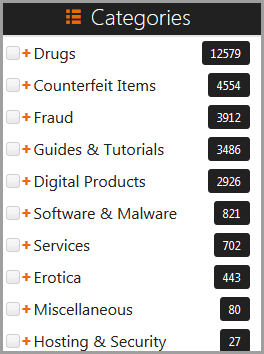 The available products are pretty traditional, just what I expect to find on any other DNM out there:
Drugs
Fraud
Counterfeit
Software
Guides
Digital Products
Obviously, each of these categories has its own sub-categories. I found sub-categories such as Opioids, Ecstasy, Cannabis, Benzos, RCs, Stimulants, etc. in the drug category.
Another rare feature is its sub-sub categories. Meaning, Even Opioids, Cannabis, or most other drug sub-categories have their own sub-categories.
Why does this matter? Even without using the search-panel, anyone can find exactly what they're looking for very easily.
Counterfeit items too have some of the most unique products I've ever seen in the category. Other than fake documents and money, I also found counterfeit clothing, tobacco, and even electronics.
The "Guides & Tutorials" don't just throw e-books at you. It has neat sub-categories such as drugs, fraud, hacking, security, etc. So, it basically has guides on how to farm weed, or test drug qualities, or "how to card" and other similar guides.
Then there are the digital products. They differ from "Guides& Tutorials" because they don't sell just e-books. They sell anything which can be delivered digitally. It mostly includes software keys, leaks, databases and accounts.
Looking for viruses? You'll find them in the "Software & Malware" category. Sub-categories include exploits, botnets, RATs, crypters etc.
Even if you go into the "Erotica" category, you'll find that "accounts" (for porn production houses such as Brazzers, Naughty America etc.) and direct "videos and photos" are categorized separately.
In a nutshell, the same organization can be found in all product categories. Impressive, isn't it?
Cards Autoshop
Another very impressive and equally rare feature is DarkFox's card autoshop. As the name suggests, it's "auto".
You can purchase cards listed there instantly. The vendor doesn't have to manually accept your order.
The process is pretty simple as well. Details about the card such as expiry/ ZIP/ country/state/ DOB/SSN etc. are mentioned. Each vendor's ratings too are mentioned. A click on the "Buy" button gets you the cards directly.
Do note that all autoshop purchases are on finalize-early.
Advanced search panels
DarkFox market offers arguably "the" most advanced search panel on the entire darknet industry.
In fact, it's the only market I've seen offer a "Vendor search" feature! More on that later.
For now, let's see how easy/hard the product-search feature is? That's obviously decided based on the search-filters that the market offers, right?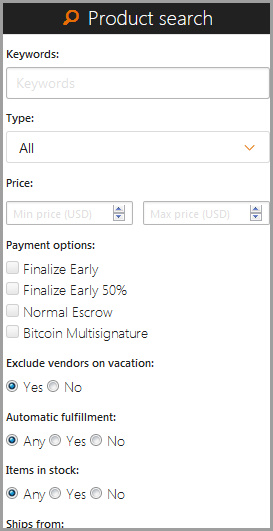 The above screenshot only shows some of the many other search filters that DarkFox offers.
Here's a full list of what can be filtered:
The type of product (digital/physical)
A minimum-maximum price range
Payment mode
Auto-fulfilment availability
Stock-check
"Vendor on vacation" check
Shipping source & destination
Minimum vendor level
Sorting (low to high/ high to low/latest etc.)
There are two benefits to these filters. First, it increases product-finding speed. Buyers find products within their budget and "in-stock" directly.
Secondly, it helps find legitimate vendors. You don't have to check vendor stats individually. If you enter sufficient vendor level and choose "Finalize-Early" as the payment mode, chances are you'll find the most trustworthy vendors on the market.
The vendor-search feature is equally helpful. It doesn't show products rather lets us find exactly the type of vendors we're looking for.
We can basically enter a vendor username/minimum level/ Finalize-Early status. Again, it's almost the same filters offered above, but separately.
Vendor legitimacy
The dark web is crawling with scammers, isn't it? The amount of transparency a market offers for its vendors is of utmost importance, isn't it?
By "Transparency", I mean the ability to check a vendor's history, sales, reviews on other markets and so on.
Well, here's everything that DarkFox provides about its vendors:
Joining date
Total competed orders
Total disputes (shows both won and lost disputes)
Average rating
No. of sales on other marketplaces
And Vendor level

I do believe that's enough information to judge a vendor's legitimacy, isn't it? In fact, similar data is also shown for buyers so vendors can verify their legitimacy as well.
4 different Payment Modes
Didn't I say earlier on this DarkFox review that the market brings some really "new" features?
So, there are 3 primary payment modes:
Escrow:

The market acts as an escrow between the buyer and the seller.

Multisig escrow:

This is very rare and very desirable. Multisig means a transaction would need at least 2 out of 3 signatures for being processed. The parties involved include the buyer, the seller and the market. This ensures that no party individually can scam you.

Finalize-Early:

This is only enabled for selected, hand-picked, legitimate vendors. With this enabled, the vendor receives your payment directly, without it being escrowed.

50% F.E:

DarkFox is the only market offering a 50% F.E mode. Using this, 50% of your funds are sent directly to the vendor, and the 50% are held in escrow. This helps pay for any "acquiring costs" or other expenses while also minimizing your potential losses.
Payment Cryptocurrencies
Two simple reasons why this is important? Speed and anonymity. Unfortunately, though, DarkFox isn't big on options.
It only accepts payments via Bitcoins. A minimum deposit of 0.00005 BTC is required. The deposit is considered successful after 2 confirmations. Withdrawals are allowed at 1% transaction fee.
What I didn't like? The fact that it doesn't offer wallet-less deposits! Those really minimize exit-scam risks.
Selling on DarkFox
It obviously is a third-party market. Any individual can be a buyer or a seller on the market. The market only acts as a third-party escrow mediator and listing website.
Despite its massive product stock and user-base, the vendor fee is surprisingly low, set at just $150.00.
For established vendors, no fee is required. They even accept custom proposals, if a vendor can prove why he/she deserves a free vendor account.
Security
By security, I mean protection for all three sides. Are your funds safe? Is your account safe from hackers? And is your communication/orders/activity safe from the law?
For account security, the market offers a mnemonic code just after signing up. This lets us recover lost accounts.
Then there's a PIN we set during registration. The PIN is primarily used during withdrawals, acts as a 2-FA in addition to the password.
Obviously, the PGP-based 2-factor authentication too can be set. It protects the entire account. It's required for logging in along with the password.
DarkFox review- Final verdict
So is DarkFox worth checking out? Yes, it is. In fact, it's arguably "the" most feature-rich darknet market in existence today.
It has a massive product stock, even an autoshop, great security features, and an acceptable vendor fee.
The only minor issue I have is that it isn't wallet-less, and doesn't offer a login phrase.
Let me sum this DarkFox review up without wasting much time, eh? It's a 4/5 market today. Do remember to use this review purely for educational purposes.