Liberty Market review 2021: Does this market offer the products, features, and security which you seek? Those are just some of the aspects I'm discussing in this review.
Every single feature that it offers and every feature that it doesn't will be mentioned in detail.
How about some security tips? Well, I'll cover those as well. The point being, you'll get to know everything about Liberty Market without having to visit it.
Disclaimer
Reading this review, or even visiting Liberty Market isn't illegal. Buying/selling illegal products, via illegal means or any other means is certainly illegal.
This is an educational review. You must ascertain the legalities of all your actions on your own. We aren't supporting or encouraging illegal darknet trades, money laundering or any such practices.
The reader of this article will solely and exclusively be responsible for any and all of his/her actions.
What is Liberty Market?
It's a darknet market. A market on the dark web/.onion network which can only be accessed using the Tor browser. It primarily sells illegal products. The transactions on the market too are untraceable because it uses Cryptocurrencies.
The market is comparatively new and was launched on 12th Dec. 2020. Despite that, it has some pretty impressive stats. As of today, over 351 vendors have already registered on the market.
Onion Site Link:
Liberty Mirror Links
Best features that Liberty Market offers:
Instant, fast and free registrations.

8000+ product listings

Easy to use interface

Both Bitcoin and Monero accepted.

Cheap $1/1% withdrawal fee.

Cheap $100.00 vendor-fee.

Security ensured using 2-FA and PIN.
And here's what I think needs to be improved:
A wallet-less mode should be added, even if as an optional choice.

Multisig transactions massively increase transactional security.

The login phrase too couldn't hurt if added.
User-Interface and layout
Do you need special skills to use the market? Is it similar to other darknet markets? What's different? We'll see.
Here's what it looks like: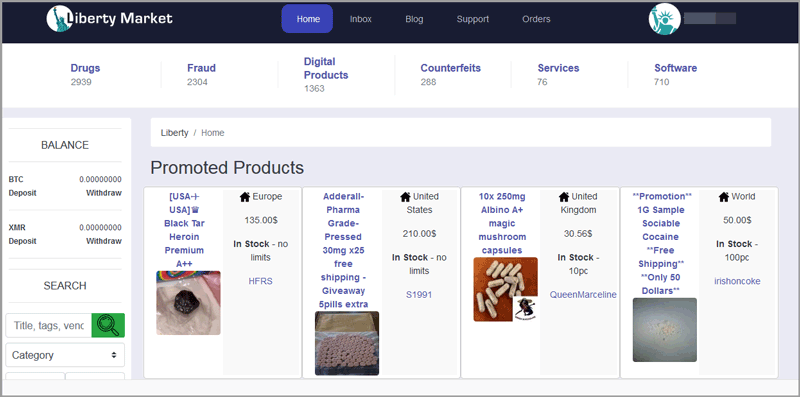 So, there are two-topbars. That's new. Most darknet markets just have one. But I believe this keeps things simpler and easier to locate.
The first top-bar has account-related links. You can find your inbox, support page, orders, etc.
The second top bar is basically the product category. On most other markets, this is placed on the left sidebar. That's done to accommodate an ever-growing list of products so they never run out of space.
In my opinion, this works too, no issues here.
The left-sidebar on Liberty Market is used to show your balance and the search panel.
And finally, a list of promoted products can be found at the center.
The product-listing UI too is pretty detailed.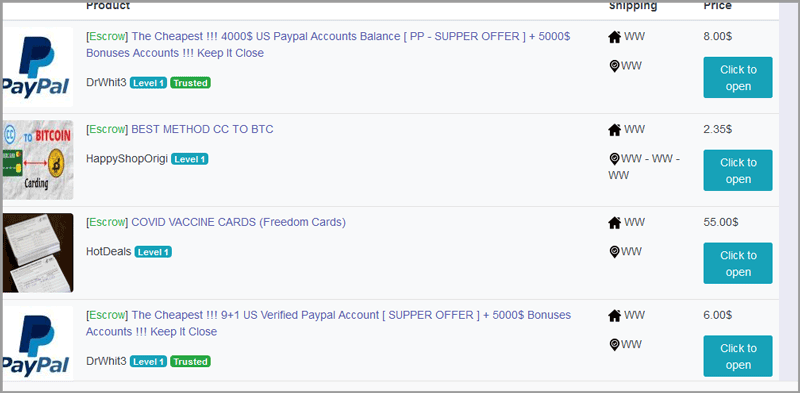 As you can see, it shows if the listing/vendor accepts or doesn't accept escrow. Then, the level of the vendor is shown. Some vendors may also have the "trusted" seal.
The source and destination too is marked for each listing, along with the price.
What I liked is that this minimizes manual efforts. Without going to each listing's individual page, I get most data about it. Hence, I can browse through more products at a faster speed.
In my opinion, they tried to do something new even though not completely unique. Either way, they deserve praise for trying, period.
Registration
I totally have seen darknet markets which allow product browsing without registration. I've even seen markets that even allow purchasing products without registrations.
Liberty Market on the other hand took the traditional and more organized road. Meaning, you must register to access the market.
No special invites are required. No payments are required either. And no, you do not need an e-mail ID.
All you need is a random username and a password which you wish to set. Done!
There's no "cool down period" either. Accounts are activated instantly after registration.
Products and services
So, what exactly can you buy or sell on Liberty Market? Exactly these products:
Drugs
Fraud
Digital Products
Counterfeits
Services and
Software
Most of these are pretty self-explanatory, aren't they?
As of today, the market has around 8000 listings across these categories. The maximum number of products is found in the "drug" category.
If you're new to darknet markets, know that this is the norm. On almost every single darkweb market, drugs are one of most heavily populated categories.
Then there's the fraud category. It primarily has products related to money. Some sub-categories are accounts, CVV, dumps etc.
Obviously, this doesn't mean that there are no non-money products. It also has fake documents listed for sale.
Just like that, if you go to the "Digital Products" category, you'll find products which often need to be downloaded. It will include databases, porn accounts, software, e-books etc.
Finally, the "services" category is a bit unique. It doesn't sell products. Rather, as the name suggests, it sells services which are rendered by other users to you.
Most listings in this category include hacking services, anonymous e-mail creators, fund transfers etc.
Again, in my opinion, the products are pretty diverse, well-categorized and fit the "dark web" bill perfectly.
Do note that there's no "it must be illegal" rule. Sellers sometimes sell rare and hard-to-find artifacts as well on these darknet markets even though that's a very rare occurrence.
Becoming a vendor on Liberty Market
So, who exactly sells these products? Liberty Market is a P2P market. Meaning, it connects two parties, the buyer and the seller. The admin/team doesn't sell any products themselves.
Anyone can sign up to become a seller on Liberty Market. The vendor-fee is set at a very low $100.00. I've literally seen markets upwards of $1000.00 for vendor accounts. Comparatively, Liberty Market's vendor accounts are dirt-cheap.
The market also clearly mentions that there's no way to get this fee back.
Personally, I feel a refundable fee works in favour of the market and the buyers. That's because sellers hesitate to scam as they'll forfeit their vendor-bond that way. However, that's not the case with Liberty Market.
On top of the static, one-time vendor-fee, there's also a 4% transaction fee on each sale. This is levied only on the vendors, buyers aren't affected by this fee.
Apart from these, the market has just one more rule for vendors. They can not sell:
Illegal porn
Any kind/type of weapons, including Knives.
Anything related to Fentanyl
Personal information


That's about it. If something isn't mentioned in the list above, it can be bought and sold on Liberty Market.
Making anonymous payments and withdrawals
Obviously being a darknet market it accepts Cryptocurrencies.
It accepts both Bitcoin and Monero. Depending on your priority, either speed or anonymity, you can choose the one which suits you best.
It's not wallet-less. This means you must deposit funds to the market wallet in advance.
In my opinion, wallet-less markets can build trust faster and better. Especially after seeing Empire Market exit-scam, I've overly sceptical.
Deposits only require 1 confirmation. There's no deposit fee, however, the deposit can't be smaller than 0.0001 BTC
Withdrawals are charged at $1.00 if the amount is less than $100.00. Amounts more than $100.00 are charged at 1% of the withdrawal amount.
Security
The market offers some of the basic security features.
You can obviously set 2-factor authentications using PGP. You can also set PIN during registration. The PIN protects withdrawals and funds.
Optionally, you can also enable/disable the PIN for purchases. If enabled, all future purchases will require this PIN. It ensures fund safety even when the account is hacked.
Final verdict- Is Liberty Market the next big thing in the industry?
If I'm being honest, I don't see that happening anytime soon. I've monitored Liberty for quite some time now, it doesn't seem to grow at a dominating pace. Sure, it's still growing fast, just not at the speed Empire or Alphabay grew in their days.
In terms of features, it's almost perfect. The product quantity and quality, vending policies, security features are all there.
Given enough time, it still may come out on top. For now, I'll sign off this Liberty Market review with a 3.5/5 rating. It loses points because it lacks multisig transactions and the wallet-less mode.