This World Market review will discuss the market in detail. The products, security features, vendor policies, legitimacy verification for vendors, and everything else will be covered.
If you're searching for a new market, or World Market mirror links specifically, this piece is just for you.
Disclaimer: This review is solely and exclusively for educational and research purposes. Buying/selling on World Market may be illegal. Any activity on the market will solely and exclusively be your own responsibility. I do not encourage trading in any way on the market, or with vendors related to the market.
World Market in a nutshell
It's probably the most popular market in the industry as of today.
Best Features:
23000+ products
BTC and XMR accepted
2-FA/PIN/Auto-logout available
$1500.00 vendor-fee
Card and Account autoshops
Features that need to be improved:
Not wallet-less
No multisig transactions
No login phrases
Word Market Mirrors
User-Interface
How does World Market look and feel exactly? I'll say it's heavily inspired from the now-defunct Empire Market.  In fact, the interface is almost a clone of Empire. Hence, if you've ever used Empire Market, you'd find yourself very familiar with the interface.
(They aren't copying, they've clearly mentioned it's more of a "memory/nostalgia" thing).
If you're new, using the market is no harder than using any other e-commerce website.
On the top-right it displays account information. It primarily shows the wallet balance, a link to "settings" and the logout option.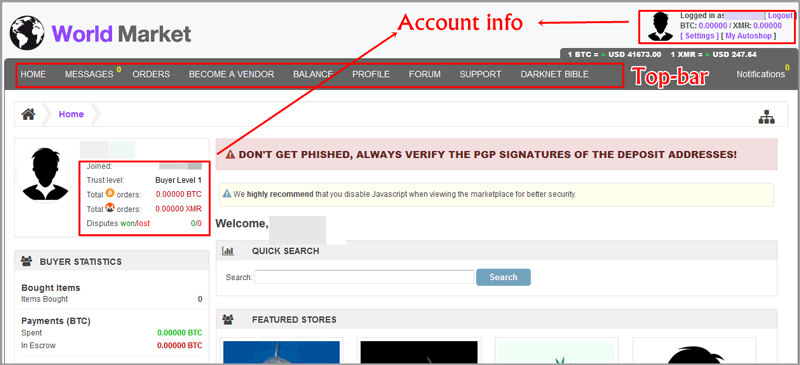 Then there's a top-bar as is expected. Again, it gives us the most important options such as orders, messages, support, profile, "become a vendor" link and so on.
The left-sidebar again displays the account information (not the best use of space), link to the autoshops (yes, there are two) followed by buyer statistics, product-categories and a search-panel. These aren't visible in the screenshot above so let me get you visibility: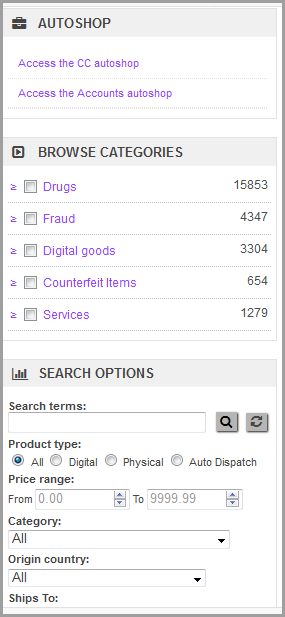 The centre-screen first shows featured stores. These vendors probably paid for their stores to be featured. Then there are a few random listings shown.
All in all, I'd say the market place is very easy to understand and can be used by anyone.
Product Stock
One of the most important questions on any darknet market is- what does it sell? Well, I loved the fact that World Market has only a handful of primary categories.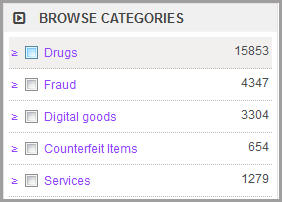 It has over 24000 products currently listed. You can buy:
Drugs:

It boasts 15000+ listings. When expanded, it reveals sub-categories such as steroids, prescriptions, Ecstasy, Benzos, Opioids etc.

Digital goods:

As the name suggests, you can find non-physical items here. When expanded, it gives me products such as guides, botnets and malware, commercial software etc. 3000+ products can be found here.

Fraud items:

With 4359 current listings, the category offers products which are a financial-help. Cards, dumps, logins to bank accounts, gift cards are some of the available products in the category.

Services:

As always, this category is where you can find other skilled individuals offering their talents and services, for a price obviously. Currently it has about 1207 listings. Hacking, carding, fake document creation etc. are offered.

And Counterfeit products:

Duplicates for original products is what sells here. Primarily fake currency notes and jewellery are sold in the category.
Products not allowed on World Market:
Prostitution services
Illegal porn
Any and all weapons
Hitman services.
2 autoshops
An autoshop is where you can buy products instantly. World Market has 2 autoshops.
The first is the "Card" autoshop. As the name indicates. It lets you buy cards, instantly. The cards aren't processed via an escrow. You choose a card and pay for it. It instantly arrives in your "My purchased cards" page.

There's an automated card checker. It checks if the card is live or dead and hence the lack of an escrow isn't a real problem here.
The second autoshop is the "account" autoshop. Instead of cards, it sells account information. The accounts can be of anything and everything. This includes bank accounts, accounts to porn websites or software.
Again, this too is automated and instant. No vendor approval is needed for these purchases to go through.
Accepted payment Cryptocurrencies
Everyone knows that a darknet market will only accept Cryptocurrencies. But which cryptocurrencies exactly? That's what makes all the difference, isn't it?
So, World Market lets you pay using:
That's literally the most common duo for dark web markets on the planet. You choose Bitcoin if you need speed, you choose Monero if you need more anonymity, period.
1 and 2 confirmations are respectively required for Bitcoin and Monero deposits.
Security features
Just after registration, World Market provides you a mnemonic code. This is the "master key". It makes sure even if you lose all account access, including 2-FA/PIN and everything else, you can still get your account back!
As I just mentioned, the market does offer 2-factor authentication via PGP. The PIN set during registration also helps secure funds as it's required for fund withdrawal. This PIN too can be recovered using the mnemonic code.
Accounts are claimed to be deleted if there's no activity for 1 month. However, in my experience, the auto-delete period has been slightly extended. You can also contact the team to get your account permanently deleted at any time.
Obviously, all non-F.E transactions are protected by the market escrow. Finalize-Early is provided only to established vendors.  The vendors must have 250 sales and $25000 in sale volume, on top of 90%+ positive ratings in order to apply for F.E privileges.
Moreover, there's also an auto-logout system. You can choose from 20 minutes, 60minutes and 6 hour when logging in. When inactive, after the selected time, accounts are auto-logged out.
Selling on World Market
World Market is just a mediator. It lets anyone buy and sell on the market.
My favorite part here? It has a very expensive $1500.00 vendor-bond requirement! More than that, this fee is non-refundable.  It massively ensures that the platform remains scam-free.
An additional 4% commission/sale too has to be paid by vendors on each sale.
Vendor verification
World Market doesn't hide its vendors history or activities. You can check in-depth history of a vendor which tells you which vendors are legit and which may be potential scammers.
Here's a glimpse of what can be verified: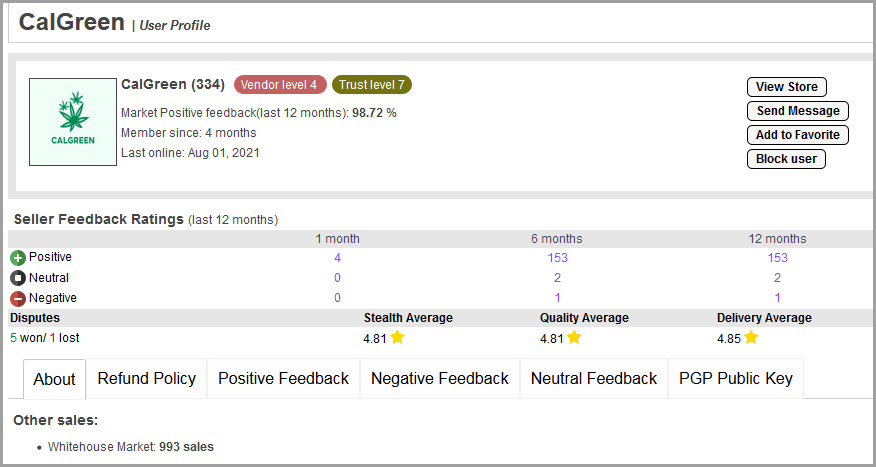 Positive feedback in the last 12 months
Last online and membership age
No. of lost and won disputes
Vendor level (majorly dependent on the no. of sales).
Trust level
And even the no. of sales on other darknet markets!
You can easily choose vendors on a high level for the account and trust. These are least likely to scam you.
World Market forum
The market has a very active official forum as well. The World Market forum link is- http://worldrmuxgp5qbmxbr27sgmau6wma75l2vx7brsiftyibaaejfqot4qd.onion
It does require a separate signup, however, the exact same credentials used for registering on the market can be used.
It primarily has threads on carding, drug, technology and so on. Even giveaways and contests are held.
There's an entire "reviews" section so you can check which products/vendors are legit and which are scammers.
What World Market misses?
I can't conclude this World Market review without talking of everything that World Market misses on.
First, I'd really have liked a wallet-less payment mode. I'm scared of centralized wallets after the Empire Market exit-scam.
Second, I always like markets with a "login phrase". Phishing darweb markets is extremely common. Login phrases protect against that but aren't available on World Market.
And third, while it's still rare in the industry, multisig transactions are always desirable.
World Market review- Final verdict
As a darkweb enthusiast, I'll say World Market does most things right. In terms of products, the quantity as well as autoshops deserve 5 stars.
Payment mode deserves 4 stars because it allows 2 cryptocurrencies but isn't wallet-less. Security features are pretty standard and I'll rate it a 4/5.
The vendor policies deserve 5 stars because of the expensive vendor bond and F.E-requirements.
In a nutshell, I'll conclude this World Market review by saying that it totally has what it takes to be the best darknet market in the industry, eventually.