TorBay market review 2023: Is this the best dark web market in 2023? Does it have all the products a potential buyer may seek? Is it secure? Can it exit-scam?
All of these questions and some more will be answered by the end of this review. If you're searching for a new dark web market, this piece is just for you.
This piece is probably the most unbiased, transparent and honest review of the market that exists on the web. I'll bring forth not only the features, but also the flaws that the market is known for.
Of course, be sure to use a VPN before entering any URLs. There's only so much protection Tor browser can offer you.
Let's get started?
TorBay Market Overview
Here's the most important data about the market in a bite-sized list to help you save time:
Wallet-mode:

Wallet-less

Payment Cryptocurrencies:

BTC/LTC

Vendor fee:

$300.00 (may change with time).

Vendor commission:

5%

2-FA:

No
If these seem interesting, let's dive right in.
Legal and financial disclaimer
This review is for educational and research purposes only. We are not promoting the use of dark web markets or products sold on such markets.
We also have not verified the legitimacy or the legality of the market, or any vendors listed there. Hence, it is 100% your (the reader of this article) responsibility to ascertain the legalities of your action.
The creators of this article or the owners of this website will in no way be held responsible for any of your actions or losses.
User-Interface
TorBay's UI is what immediately caught my attention. The market didn't use the old, traditional UI that we see on most other markets. Rather, it tried to do things of its own.
For starters, there's at top-bar. That's where it displays its product-categories instead of on the left-sidebar that we generally find on other similar sites.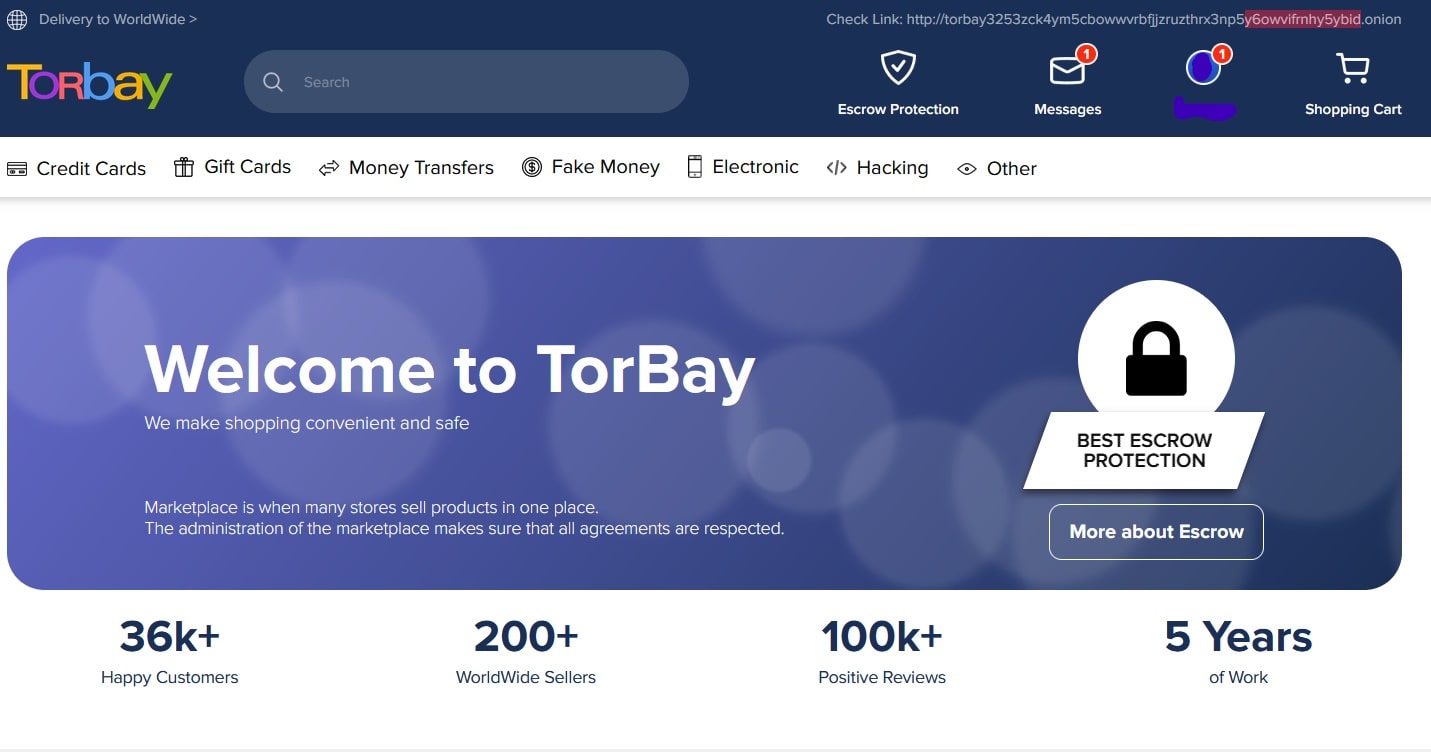 Just below that are some site stats.
On the same page, it has a "top vendors" section. This helps users easily find the most trustworthy vendors on the market.
Now, I'm not saying this is easier or the old/traditional UI was harder. All I'm saying is, this is different, still effective, easy to understand and use. Don't you agree?
Registration
This is another factor I liked about TorBay.
It doesn't force you to register. You get access to all vendors and their products without registering.
You ofcourse will need to register but only if you find your product on the marketplace. This is impressive because most other markets do not grant any access without registration.
If you do choose to register, the process is 100% anonymous and doesn't require any special "invites" or payment.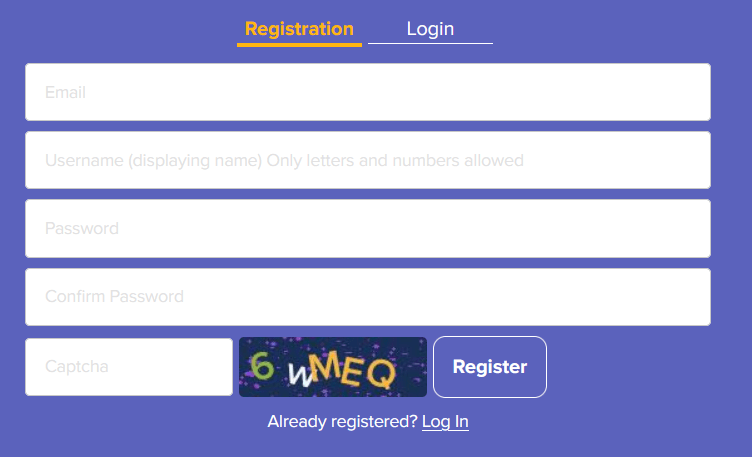 The only weird part is, they ask for an e-mail. Of course this can be any random gibberish as no verification is required. However, it's pretty rare for markets to ask for e-mails, isn't it?
Once you fill in the information, you instantly get in.
Available products
Of course, being a dark web market its "products" are of immense importance, aren't they?
You can find all the products at the top-bar. These are also displayed on the left-sidebar once you click on any product at the top-bar: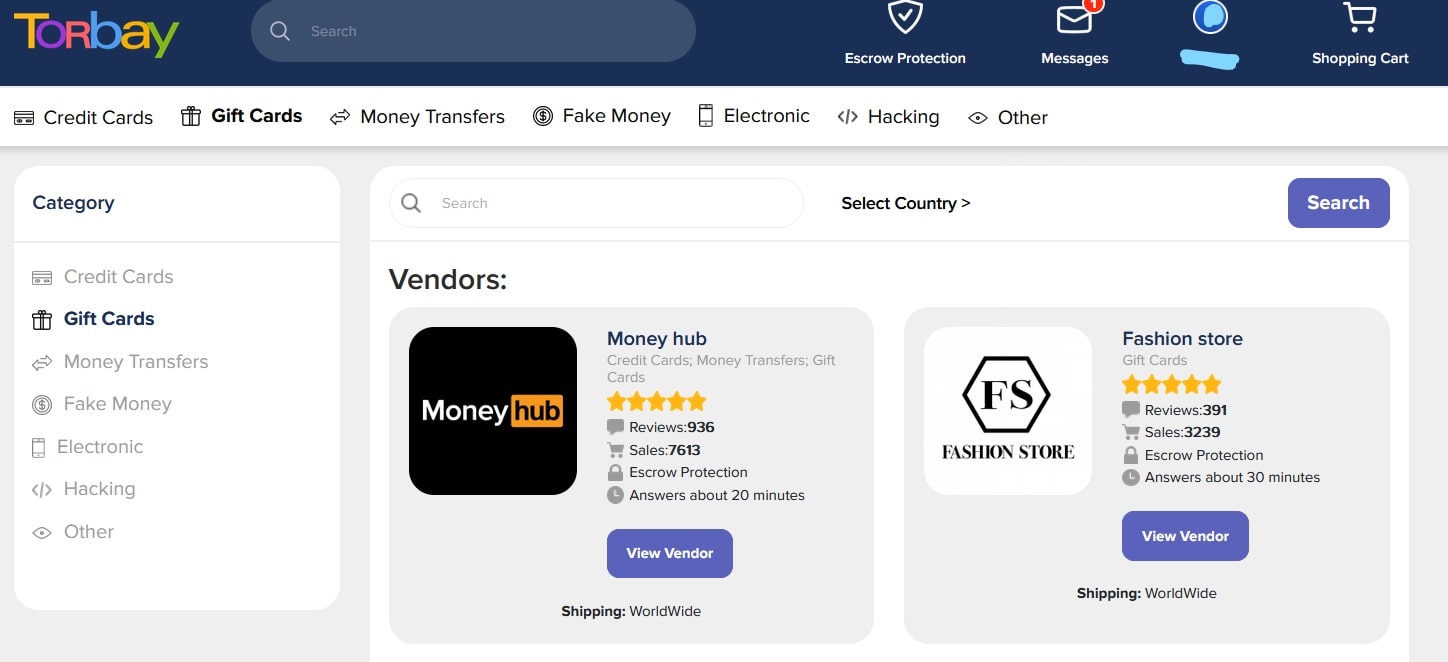 Credit cards:

Both physical cards as well as digital cards are up for sale here.

Gift cards:

Gift cards for nearly every major brand such as Amazon, Google Pay, Steam, Netflix etc. are available.

Money transfers:

You get direct transfers for PayPal, Western Union, Skrill and every other major outlet out there.

Fake money:

As the name suggests, the category sells counterfeit notes for nearly every major currency including USD, EUR, INR etc.

Electronic:

You get gadgets at cheap prices.

Hacking:

The category has tools as well as services meant to facilitate hacking and similar activities.

And others:

This category is basically for every other product that doesn't fit into the above categories. Some products include e-books, porn accounts, match fixing etc.
Unlike other marketplaces, there are no "sub-categories" on TorBay. Each category is a parent category and all products are included in the category.
There's some UI difference here as well. Once you click on a product-category, you aren't directly shown the products. Rather, you're first shown a list of "vendors" and then if you scroll down you'll see the top products for your category.
This I believe does offer you more options. You can go either way and that's desirable, isn't it?
Detailed Vendor Stats
This isn't a "feature". It's just something I personally use to find the best vendors on a market. The extent of information any market offers me about its vendors decides how good its vendor-transparency is.
Why is this important? If you get enough details, you can easily filter the legitimate vendors from the scammers. Do note that not all marketplaces are transparent with these details.
So, here's what TorBay shows about its vendors on their overview page.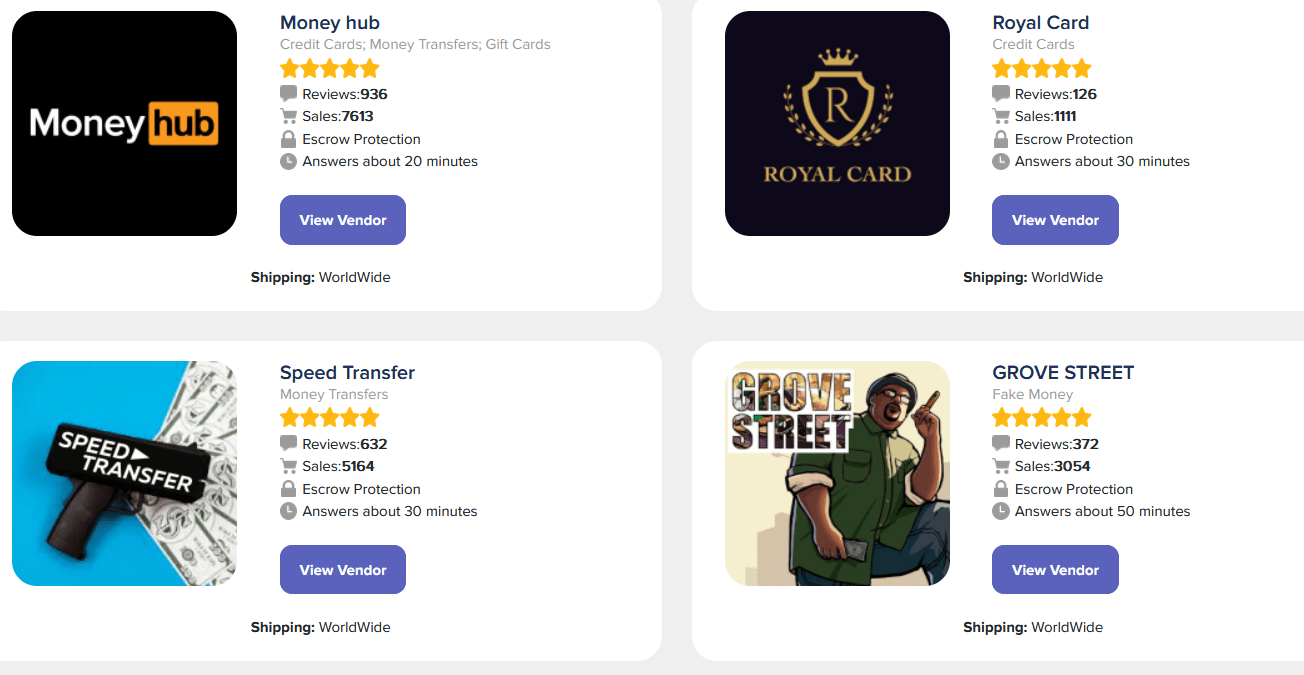 Overall rating of the vendor.
of reviews
of sales: Of course, vendors with higher number of sales are less likely to scam you, don't you agree?
Escrow availability
Shipping destinations
Average response time.
Once you click on a vendor profile, you get more details which include: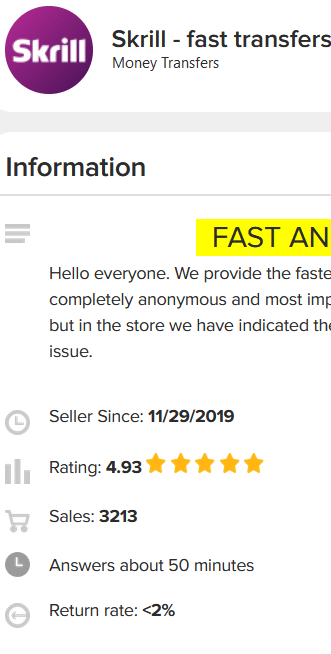 Joining date:

The longer a vendor has been on the market, the more trustworthy they generally should be.

Return rate:

This is a massive "quality" indication. If the return rate is high, it obviously says a lot about the product quality, doesn't it?
I also liked the fact that reviews can be left only after actually making a purchase. I've seen marketplaces which allow just about anyone to leave a review.
Wallet-less payments
This is one of the most desirable yet one of the rarest dark web market features I've ever seen. So, there are no "wallets" on TorBay.
This means, you aren't required to "deposit funds" to the account to make purchases. Rather, you pay for each order directly from your external wallets.
Why this is desirable? You will not be storing any funds on your market account. No one will be doing that. As a result, the market will not have any funds to exit-scam with.
Payment Cryptocurrencies
The payment Cryptocurrencies are important, aren't they? They decide both the speed, as well as anonymity of your transaction.
TorBay uses two of the most common Cryptocurrencies used on the dark web:
Once an order is placed in your cart, a payment address is displayed. Funds can be sent to this address to confirm the purchase.
Vending policies
TorBay obviously is just an escrow mediator. It doesn't buy/sell items on its own. It only connects the two parties.
This obviously means anyone can start selling on the market. Of course, they must first meet the requirements and follow the rules.
So, the vendor-fee is set at $300.00. This is non-refundable. On top of this fee, there's also a 5% commission on each sale.
Despite it being a dark web market, vendors aren't allowed to sell the following items:
Human body parts
Illegal porn
Weapons/explosives/terror-promoting items
Hitman services
Snuff films etc
What could be improved?
Hey, my goal here is to keep this TorBay review transparent and honest. While most general users wouldn't mind the flaws I'm about to discuss, I believe they're required in a "review".
For starters, I'd like it more if it had 2-FA. It could be PGP based or even TOTPs, but 2-FA is always appreciated, isn't it?
Then, the login phrase is something else that helps protect against phishing attacks. Furthermore, it also could implement the PIN which could be required either for purchases or account changes.
The lack of a more advanced search-feature too is evident. It has thousands of products. It would've been easier if there was a search filter that would let us search for products based on price, delivery locations, category etc.
My final complaint is regarding its payment modes. While BTC and LTC are perfect, nothing beats the anonymity XMR offers. Sure, it has its drawbacks. But if the option existed, people could choose if they're willing to make that trade!
TorBay Market Review- Final verdict
So, is it the best dark web market in the industry today? I wouldn't say that. As we just discussed, it still has a long way to go.
However, if we look at what it does offer, it's pretty impressive as well. An easy UI, thousands of products, wallet-less payments and 2 Cryptocurrencies to pay with.
From a "availability of product" and "security" perspective, it does seem better than most other similar markets out there. Especially considering how transparent it is with its vendor profiles.
So, I'll say while the market still isn't at the top, it does have all the potential to get there (and soon). That'll be all as far as this TorBay review goes folks. Go check it out and form your own opinion?