Torrez market review: How good/bad of a darknet market is this? Does it offer the right products? Is it secure? What payments does it accept? What are the Torrez market working mirrors?
Those, and many other questions are what I'll be answering throughout this piece
Do note that this Torrez market review is purely for educational purposes. Any trade/buying/selling may be illegal, and will solely be your own responsibility.
Note: Before reading further, run your VPN software, if you don't have one. Leave this right now, get NordVPN software first and then come back here to read further. Even if you are just reading about deep web, you must create secure environment for you with NordVPN.
Torrez Market overview
Torrez market is almost 2 years old today. It has seen over 1600 registered vendors, and nearly 250,000 registered members.
Torrez Market Primary Features:
Wallet-less payments

Multisig transactions
2-FA/PIN/ TOTP
Optional centralized wallets
$500.00 vendor fee.
BTC, XMR, LTC, ZEC accepted.
Torrez Market Mirrors
Here are some of the PGP-verified working mirrors for the market in 2021:
Be sure to not use any of these dark web links for buying/selling products or any other illegal activity.
Let's get started then?
User-Interface
I wouldn't waste much of your time here.
The UI is what it is like on most other darknet markets. The top-bar offers links to account, support, security etc.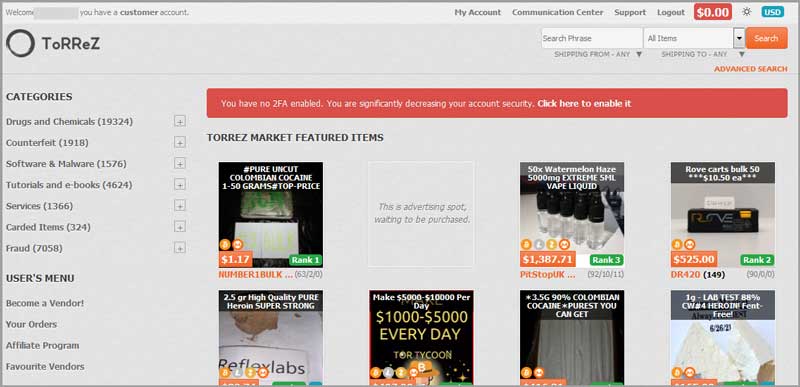 The left-sidebar has a product-category sidebar and some other important links such as orders, become a vendor, affiliate program etc.
And the rest of the screen shows featured products.
Pretty simple, easy to use and understand, right? Let's proceed.
Products
Clearly the most important aspect on this Torrez market review, and basically for any other "market", even in real-life, isn't it?
So, Torrez market has a massive stock of over 36100 products. That's probably the second-largest product-stock in the industry as of July 2021.
Here's a list of everything that's available: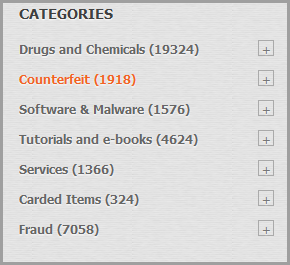 Drugs and chemicals:

Hosts nearly 20000 listings! Has sub-categories such as Opiates, Ecstasy, Stimulants and many others.  

Counterfeits:

Obviously it lists items which are duplicates/fakes of otherwise valuable commodities.  You can find copies of luxury watches, fake IDs, branded clothes, currency, and branded devices. Nearly 2000 products can be found listed here.

Software and malware:

Being honest, it's more like a "viruses and pirated keys" category. Trojan, Botnets, Exploits, Malware are the sub-categories.

Tutorials and E-books:

It has books and informative text on drugs, hacking, carding, money etc. Its 4500+ product-stock is rare for the category !

Fraud:

With 7000+ products, it's the second most product-rich category on the market. If what you're seeking is money-related, you'll find it here. This includes cards, accounts, dumps and even personal information (it's impressive because most darkweb markets do not allow trade of personal information).

Carded items:

The category lists items specifically acquired via carding. Electronic gadgets and clothes can be found here.

Services:

A long list of things that other people can do for you can be found here. This includes hacking, carding, services related to social media (like/follow/views), cracking and so on.
In a nutshell, regardless of what you're looking for, I'm confident you'll find it here.
Prohibited Items
The following items can't be sold on Torrez market:
Illegal porn
Weapons/explosives
Fentanyl
Transfers*
*This is unique. It's one of the most common products on most other markets, but also the most scam-friendly. As a result, Torrez has banned any and all transfers such as PayPal to PayPal, Western Union transfers and so on.
Selling on Torrez market
You, and anyone else can sell on Torrez market. It's not even illegal (as long as you sell legal goods, obtained legally).
The vendor-bond is comparatively expensive, set at $500.00. It's a one-time fee. On top of this fee, vendors also pay a commission set between 4% to 5% on each sale.
There's another "Junior vendor" account. It can't be obtained manually and is assigned by the administration to new vendors with little or no previous trade history.
Payment Cryptocurrencies
Torrez market is probably the most options-rich dark web markets when it comes to cryptocurrencies.
It accepts payments via:
Bitcoin
Monero
Litecoin
And ZEC.
Depending on what's your priority (speed/anonymity/fee) you get to choose the currency you like best!
3 types of escrow payments
It seems Torrez was created with a "let's do more than anyone else" attitude. As a result, it offers three types of escrow payments you can use.
Multisig escrow
Finalize-Early
Standard Escrow
Multisig is the most rare and most secure escrow mode on the dark web. It requires keys from at least 2 of the 3 involved parties (buyer/seller and the market). No individual party can run away with the funds on its own.
The standard escrow is well "standard". The money is held with Torrez market's escrow till the trade is complete.
Finalize-Early is beneficial only for the vendors. It skips the escrow process and sends funds directly the vendors. With almost no possibility of getting the funds back in case of a scam. F.E however is only enabled for reputed and established vendors.
2 wallet types
This again is an aspect Torrez market outshines most other darkweb markets out there.
Torrez market allows both:
Centralized  wallet deposits
And wallet-less payments.
Centralized wallet mean a wallet that's created for each user on the market. Users deposit funds to this wallet first, any amount, and use that amount to make purchases later.
Centralized wallets reduce "frequent deposits". You can deposit a bigger sum once and keep using it till it's exhausted. It reduces fingerprints, and makes purchasing faster.
However, centralized wallets are controlled and owned by the markets. So, the markets can (and have, multiple times) run away with all the funds users have deposited in their wallets.
On the other hand, wallet-less payments mean users do not deposit anything to the market wallet. Rather, they can add products to their cart, and on the checkout page, pay directly from a third-party wallet.
This ensures that each time, only the amount required for each order is sent. This eliminates any exit-scam risks. On the flip side, users have to send funds from external wallets to the dark net market for each purchase, hence increasing footprint.
I personally prefer wallet-less payments. However, I love the fact that Torrez market offers both the choices.
Vendor legitimacy verification
It's not a "feature" but of utmost importance. This lets us verify if a vendor is legit, or a potential scammer.
For every vendor, Torrez shows us:

Vendor's rank (this is decided based on the no. of sales the vendor has made.)
Verification badge (those vendors who verify their sales on other markets get this badge. )
Last login date
No. of total transactions
Disputes
Positive/Negative and neutral ratings.
In my opinion, the vendor's rank and total transactions alone can prove a vendor's legitimacy. The other factors sure help.
Torrez market search filters
Is it hard finding your product out of the 35000+ listed items? Not exactly. Here are the search-filters that Torrez market offers:

Product type (physical/digital)
Shipping source
Shipping destination
Vendor status (verified/ favourite)
Minimum-maximum price range
F.E-status
Product category
And even minimum-maximum shipping days required (this is unique, never seen this before on other markets).
Security
The market again brings in features which are extremely rare.
On top of PGP-based 2-FA and security PIN, it also supports TOTPs. This is OTP-based authentication as well,  but it can be enabled using Google Authenticator and other third-party tools.
Also publishes a regular canary for control verification. On top of that, they remove all exif data from all uploaded photos. No logs are stored and even manual deletion of all logs and accounts can be requested.
Torrez market review- Final verdict
Is Torrez market the new dominator in the industry? Probably. It's the only market which ticks two of the rarest and most desirable features- wallet-less payments, and multisig transactions.
Every other aspect,  be it product stock, UI, security, or even the vendor-fee is exactly what it should be.
I'll sign off this Torrez market review saying it's definitely one of the top 3 if not the best dark web market out there today.