You'll find over a dozen darknet drug markets here. Each of these URLs are working and active as of June 2021.
For each of these markets, I've covered its product-stock, cryptocurrencies that it accepts, security features, vendor policies, existing reputation, and a lot more.
Everything from soft drugs to Cocaine markets are listed. Your hunt for top drug markets on the dark web will end here and that's a promise.
Do read the disclaimer below before proceeding further.
This article has links to darknet drug markets.
Disclaimer: MUST READ!
I've only listed these because "browsing" them is not illegal. That is the sole purpose and intention of this article- "Browsing".
You are not allowed to buy/sell/trade on these markets in any way. That is an offence punishable by law.
If you do engage in any trades, both legal or illegal ,it will solely and exclusively be your own responsibility.
By continuing further, you acknowledge that you will not use any links, graphic, or anything else on this article for any illegal activity, including buying/selling of drugs.
Also, I have not verified the legitimacy/authenticity of any of these markets/vendors. Hence, if you get scammed, lose your money, or order wrong products, I (the creator/s of this article) can not be held responsible.
Security Tips: Make yourself invisible
These darknet drug markets are definitely illegal.
While browsing them is legal, you really should secure yourself before doing so.
Following the steps below will make you invisible. Truly. Neither your ISP, govt. nor law agencies will be able to link or trace your actions to you.
Download NordVPN. (Because it publicly verified its "no log" policy via an independent, third-party audit).
Connect either to its exclusive "Onion over VPN" server, or "Double VPN". (NordVPN is the only VPN offering both these features)..
Disable JavaScript (switch to the "Safest" setting on Tor).
Do not run anything else except NordVPN + Tor while accessing these markets.
Mask your mic and webcam using a black tape (optional, if you're really paranoid).
Done! Now you're ready to browse the darkest parts of the dark web.
Also read: How to access the dark web safely
Multi-vendor Darknet Drug Markets
These are the dark web drug markets I'll list first.
The primary reason is these are more trustworthy. That's because the admins do not sell on these markets. They only manage the market and provide "escrow".
Other independent, third-party sellers sell on these markets. Because of the escrow, the sellers or the buyers can not scam each other.
In most cases, the vendors also have deposited large amounts for the vendor accounts. This is returned only if the vendor doesn't scam people and isn't reported multiple times.
On multi-vendor markets, the vendor-history too is transparent and more trustworthy. You can check how many sales a vendor has made, what other users are saying and other such details.
Also, these markets generally accept more types of Cryptocurrencies than single-vendor markets. Furthermore, these markets also offer more security features than single-admin markets.
Finally, because these markets have hundreds of different sellers, they have a much bigger product stock.
In a nutshell, these should be prioritized over single-vendor markets for lesser chances of being scammed.
1. World Market
Onion URL: http://worldps45uh3rhedmx7g3jgjf3vw52wkvvcastfm46fzrpwoc7f33lid.onion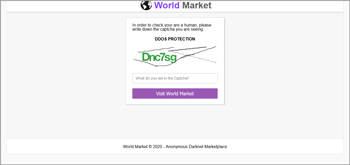 World Market is extremely popular in the industry as a drug market. Actually, not just drugs, it has over 22,000 products listed in various categories.
However, over 13722 products are listed in the drugs category alone. This clearly indicates that the market wouldn't disappoint buyers.
Some of its primary drug categories include Cannabis, Stimulants, Ecstasy, Benzos, Prescription etc.
The market requires a mandatory registration. The registration is completely free, instant and anonymous.
It also features a very impressive search-panel. Finding the exact drug you need is extremely easy. You can filter shipping source & destination, escrow type, and even specify a minimum-maximum price range.
It also allows selling drugs and other commodities on the market. Sellers need to deposit a $1500.00 vendor-fee which is non-refundable. This also makes sure that most sellers are legit, hence preventing scams and fraud on the market.
Items can be purchased using both Bitcoin and Monero. It's not wallet-less. Funds need to be deposited to the account wallet first. They can then be used to purchase items.
The market is very secure. It allows 2-FA via PGP. A security PIN too can be set for withdrawals. And then there's login phrase which prevents phishing. It also provides very transparent vendor-histories. So users can verify the legitimacy of a vendor before placing orders.
World Market Mirrors:
Pros:
Massive drug stock (13000+).
BTC & XMR Accepted.
Advanced security features
$1500 vendor-fee (prevents scammers).
Cons:
2. Castle Market
Onion URL: http://castlee5janmtc5h6jiorit7lzdhgfuy43po4oddgi3qpm52ljyljyyd.onion/
If you're on this page, you're obviously searching for drug markets on the onion network. Well, Castle Market has a category labelled "Drugs and Chemicals". Then there are the sub-categories which include Benzos, Tobacco, Ecstasy, Cannabis, Paraphernalia, RCs and a dozen others!
Any of these drugs can be purchased using Cryptocurrencies (obviously). More specifically, Bitcoin, Ethereum, Bitcoin Cash, ZCash, Dash and Monero can be used to buy these drugs.
The market does not allow direct purchases from external (non-market) wallets. All purchases must be made from the funds already deposited in the market wallet.
It allows withdrawals as well. These withdrawals are charged at 2.5%/transaction. Talking of fees, the market charges $200.00 for the vendor accounts.
On each sale, both the parties (the vendor and the buyer) also pay an additional 5% commission.
Registration is not required simply for checking the products. The market is open for all. Accounts are strengthened using PGP based 2-factor authentication. A PIN exists as well, it helps protect funds and transactions even if your password is compromised!
It also offers the very rare "multisig" feature. This makes sure no one party has sole control over your funds when they're in the market escrow.
Pros:
6 different Cryptocurrencies accepted.
Multisignature transactions
Advanced search-panel.
Cons:
Still is very new, needs some more time.
3. Torrez Market
Onion URL: http://yxuy5oau7nugw4kpb4lclrqdbixp3wvc4iuiad23ebyp2q3gx7rtrgqd.onion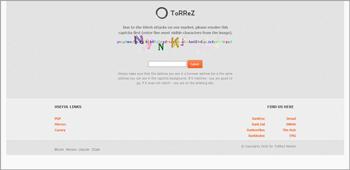 With over 225797 registered users, Torrez Market is one of the most popular dark web drug markets in existence. It's also pretty well-established and is nearly 2 years old now.
There are some very clear reasons why I've listed it at the #1 spot on this darknet drug markets list. For starters, its arsenal of nearly 36000 products is one of the highest in the industry! Out of those 36000 listings, nearly 19000 items are in the drug category.
Primary types of available drugs include Benzos, Ecstasy, Stimulants, Opiates, Tobacco, Steroids etc.
To prevent scams, it displays detailed vendor histories. You can check a vendor's total no. of sales, no. of disputes won vs. lost, positive/negative feedback, rank, verification level etc.
Vendors also need to pay a $500.00 vendor fee. A commission of 4%-5% on each sale also needs to be paid by the vendors. All of this discourages time-wasters and scammers from signing up.
It accepts payments via 4 different Cryptocurrencies. These are BTC, LTC, XMR and ZCash. It's one of the very few darknet markets which offers multisig escrow. (Scroll to the bottom of this article if you don't know what this is).
Accounts can be secured using PGP as well as TOTPs. It's the only darknet market I've seen offer TOTP so far. It too is an OTP but can be received Gnome Authenticator, KeePassXC etc.
Account PIN too is set during registration. This prevents hackers from stealing your funds even if your password is compromised.
Finally, it does feature an advanced search feature. Filters include price-range, no. of shipping days required, type of escrow and even the exact crypto you'd like to pay with.
Torrez Mirrors:
Pros:
Very product-rich
Multisig escrow
Accepts BTC, ZEC, LTC and XMR
TOTPs and PIN for security.
Cons:
No login phrase
Not wallet-less.
4. WeTheNorth
Onion URL: http://hn2paw7zaahbikbejiv6h22zwtijlam65y2c77xj2ypbilm2xs4bnbid.onion/
This obviously is a darknet drug market, but only for Canada. It doesn't ship anywhere else.
Yes, it's a third-party market. Sellers are allowed to sell drugs (and other products) after depositing a $100.00 vendor-bond. They never get this back. It's a security measure.
As for drugs, almost everything including Opioids, Stimulants, Cocaine and everything else can be found.
It accepts payments via Bitcoin and Monero. After each Bitcoin transaction, users must wait for 3 confirmations. Only then the funds can be used on the market. Monero is a bit manual, the team needs to be contacted after depositing for the funds to be credited.
As of today, it has over 600 products listed in many different categories. The look and feel is pretty similar to what Empire Market looked and felt like.
Does offers very extensive details about its vendors. This prevents potential scammers from scamming you.
My only problem? The withdrawal fee starts at 0.0004BTC, and increases as the withdrawal amount increases!
Pros:
Not just limited to Bitcoin (also accepts XMR).
Complete marketplace, non-drug products sold as well.
Balanced vendor-fee- $100.00.
Cons:
Higher withdrawal fee for higher amounts.
5. Cannazon
Onion URL: http://cannazo73ou34ev3vnvuq75wb2ienpcztqudkdozpuitvykqhvtiffyd.onion/
It's probably the most apt choice for this list of darknet drug markets. That's because despite being a multi-vendor market, it's dedicated solely and exclusively to "Drugs". That's extremely rare.
As the name suggests, most of its listings are related to Cannabis or plant-based drugs. Some of the categories include Weed, Hybrid, Sativa etc.
Concentrates such as Resin & Rosin, oil, wax etc. too are available. In fact, it even sells vape pens as well as cartridges.
Vendor details too are pretty transparent. You can check a vendor's total sales, joining date, F.E-status (F.E allowed vendors are more trustworthy), positive & negative ratings etc.
Even sales made by the vendor on other markets is displayed.
Offers one of the most filter-rich search panels. Specific vendors, payment cryptocurrencies, price-range etc. can be specified.
Payments are accepted both in Bitcoins as well as Monero. It even has 2/2 and 2/3 multisig transactions! (Scroll down for explanations). Another impressive feature is that it's wallet-less!
Anyone can sell here, if they can deposit $500.00 worth of BTC or Monero. This is refundable when the account is closed (in good standing). Obviously 2-FA can be enabled via PGP.
Pros:
Exclusively drug listings
Wallet-less
Multisig transactions
Both BTC and XMR accepted.
Cons:
6. Royal Market
Onion URL: http://rpd25x73bfc57j5b6c7u4y5pfbyxdi2qtnwl2a4jorqsnah4ug2z5iqd.onion/
Another darknet market that sells a number of illegal and rare products, including drugs.
In fact, 10313 items are currently listed across its various drug categories! It even has a category for "drug recipes"!
Furthermore, It has a customer base of over 21337 users. Nearly 900 vendors make its gigantic product-stock possible.
The interface too is different, interesting and welcoming. Its wallet-less payment system gives it an edge over all other markets on this list. (Scroll to the bottom if you don't know what this is or why it matters).
I personally love its vendor-transparency. It shows the no. of completed orders, no. of disputes, ratings (positive/negative/neutral), vendor level, no. of followers etc.
It has this unique "points" system. Vendors accumulate points based on sales, disputes, reports etc.
It even fetches the no. of sales by the vendor on other markets! So yes, you can easily find legitimate and trustworthy vendors. Vendors with 500+ sales get a "verified vendor" tag for even easier identification.
Vendor accounts are priced at $250.00. The only limitation on Royal Market is that it doesn't allow selling to Russian citizen.
While security features aren't impressive, it does have PGP based 2-FA which is acceptable. Payment is limited to Bitcoin.
Pros:
Wallet-less
10,000+ drug listings
Very detailed vendor stats.
Cons:
7. White House Market
Onion URL: http://auzbdiguv5qtp37xoma3n4xfch62duxtdiu4cfrrwbxgckipd4aktxid.onion/
White House Market is probably the oldest of these darknet drug markets on this list. With over 754233 all-time user registrations, I doubt many would dispute that claim.
It has a massive product stock of over 45848 items! The biggest drug-stock too is owned by WHM with 34000+ items listed just in its "Drugs' category!
It's the only darknet market here which offers different forms of the same drug. E.g. you'll see Benzos pills, Benzos powder, Benzos RC etc.
It also has the biggest vendor-base on this list, with nearly 3500 active vendors! It also shows the total sales made for each individual listing!
The market is also unique in the sense that it only accepts XMR for payment! Moreover, it also allows wallet-less payments! That's extremely desirable (and equally rare).
It's pretty serious about security. Hence, you can only access it after disabling JavaScript. It's not optional!
It does accept independent sellers. Due to its age and repute, it demands a massive $1000.00 vendor bond. Again, this keeps away scammers and provides a safer environment.
It's the only market on this list which has an active bug bounty program! A newer "Harm Reduction" program too is launched. It allows users to test, report and check product quality! Unique badges are awarded to vendors for passing these tests.
Pros:
34000+ drug listings
Wallet-less
Bug Bounty program
Harm Reduction program
Extremely transparent vendor history.
Cons:
Doesn't accept BTC, only XMR accepted.
8. ASAP Market
Onion URL: http://asap2u4pvplnkzl7ecle45wajojnftja45wvovl3jrvhangeyq67ziid.onion/
ASAP Market is arguably the most "feature-rich" or "innovative" of all the darknet drug markets in the industry. The market itself is about 1.5 years old so it's definitely not a scam.
It has about 3000 listings in its various drug categories. Stimulants is the most product-rich drug category with over 1800 listings in the category. Steroids, RCs, Cannabis etc. are some other available drugs on the market.
Its "Fake Review Detector" makes listings more legitimate and prevents fake reviews. Then there's also a "Scam Hunter". It detects scam vendors and prevents them from scamming users.
It's the only market in the industry which facilitates "Dead Drops". These make delivering (for vendors) and picking up orders (for buyers) a lot easier and secure.
Anyone can sell drugs (and other items) on the market. Requires a $600.00 vendor fee. Vendors also pay 5% commission on each sale. Do note that the fee is reduced (2%-3%) for established vendors.
It too isn't wallet-less. Does accept both Bitcoin and Monero. Both the currencies must be deposited to the market wallet before making purchase.
Pros:
Scam Hunter
DeadDrops
Fake Review Detector
Cons:
Has fewer products (for a multi-vendor market).
9. DarkFox Market
Onion URL: http://p5eg3xsssjglu6tvwfazp2nqqwfpah55wr3ljil2bezp5shix5ruqsqd.onion/
DarkFox has over 10,000 listings in its "drug" category alone. In fact, the drug category has more products than all the other categories combined!
Everything from Opioids, Cannabis, RCs, Reagents, Prescription, Weight loss to Tobacco is sold.
It only accepts Bitcoins for payments. Not being wallet-less, advance deposits are mandatory. Leftover funds can totally be withdrawn for a 1% fee. Requires 2 confirmations for the deposit to be credited to user accounts.
Fortunately, it does support multisig escrow. Despite being product-rich and well-established, it demands a very cheap $150.00 vendor fee from vendors.
Very detailed vendor profiles are available. Total sales, disputes (won vs. lost), open orders, vendor level, and average rating is displayed on the vendor profiles. Even shows sales for each individual listing on the product page!
The search-panel is pretty impressive. You can filter for shipping source and possible destinations, stock availability, escrow type, min-max price range, and even minimum vendor level!
Registration is mandatory. A security PIN can be set for added account security. 2-FA via PGP too is available. It is great at support! There's a dedicated "conversations" tab in user profiles. Also offers access to tickets and messages exchanged with vendors.
Pros:
10000+ drug listings
Multisig escrow
Security PIN
Very detailed vendor profiles.
Cons:
Not wallet-less.
Only accepts Bitcoins.
10. OpenRoad Market
Onion URL: http://7zyl6ityktmfp5y2ilsb5dfnubkmoj3pqgvrqlayj4ogwjucn6xluwyd.onion/
It's probably the hardest darknet drug markets to get into. That's only because not all of you reading this may be familiar with PGP, and it requires PGP for registrations. You must enter your public PGP key although no verification is required.
The user-interface is pretty professional though. That's rare on these markets. It being a full-fledged darknet market lists almost everything that's illegal. However, available drug categories include Ecstasy, Ketamine, Heroin, Cocaine, Weed etc.
Sellers are accepted. A deposit of 0.02BTC must be made regardless of Bitcoin's current price in fiat or USD.
Does offer impressive security features though. You can enable 2-FA via PGP which is very common. However, it also supports multisig escrow which still is rare. During registration, you must also set a security PIN which "must" be strong.
All communications and messages (such as addresses) are auto-encrypted using the vendor's PGP key.
The search panel allows filtering for a min-max price range, vendor level, and shipping source plus destination.
It isn't wallet-less and demands deposits to the market wallet. It only accepts Bitcoins and requires 3 confirmations for successful deposits.
The vendor-transparency isn't very impressive. However, it still shows the vendor level, no. of dislikes, and dispute stats.
Pros:
Multisig escrow
Acceptable drug listings.
Cons:
Bitcoin only.
Not wallet-less.
11. UnderMarketReloaded
Onion URL: http://jppr7cpe7m5fndlehgz2c76qgsgi4p4yrwrusqkdcsu76gtd7wpr5fid.onion/
This is a peculiar case. The market is actually one of the oldest on this list. However, it's also the least product-rich market here. Its total product stock is below 100.
The primary reason why I've included it here is because of its age and repute. If nothing else, it does sell drugs and isn't a scam.
Drug categories include Stimulants, Opioids, Ecstasy, Prescription, Cannabis and many others. It's multi-vendor and hence does accept individual vendors. A happy surprise for vendors is its 100% free vendor account! Vendors only pay a 3% commission per sale.
The interface however is extremely basic, especially for a multi-vendor market. It's almost like a static web page from the 90s. Does keep things simple though.
Registration is mandatory to access the market. 2 factor authentication can be activated via PGP. A PIN too can be set for withdrawals and other account changes.
It isn't wallet-less. Deposits need to be made to the market wallet. 3 confirmations are required. Only accepts payments via Bitcoins.
Pros:
Extremely simple interface
Free seller accounts
2-FA and security PIN
Cons:
Disappointing product stock (for now).
12. Liberty Market
Onion URL: liberty6o7lubin4t2nzyebylmk4l4xfw6kk2o5xhg3fahqoatfiprqd.onion
I'll be honest, it's not the "best" in the industry. However, it does sell drugs on the dark web and that qualifies it for this list, doesn't it?
You must first register to enter the market. Registration doesn't require an invite-code and is completely free.
As of today, it has about 1800 items listed. Majority of the items, nearly 1400 of these are in the "Drugs" category.
It too isn't wallet-less. Buyers must first deposit either Bitcoin or Monero to their Liberty Market wallets.
Before making a purchase, a vendor's total sales, level, total rating, and feedback from other users can be verified.
The search panel does make things easier. Buyers can filter for a price-range, escrow/F.E, payment cryptocurrency, shipping source and destination.
There are a few geo-restrictions. Meaning, shipment or re-shipment (in case of lost items) isn't available globally. However, these are mostly vendor-controlled. You can always switch vendors to avoid these restrictions.
Multiple shipping modes are available and can be selected based on your budget and speed requirements.
It does accept independent vendors. As of today, 300+ vendors have already registered. In fact, it has a very cheap vendor bond priced at just $100.00.
Pros:
Well-established
1300+ drug listings
BTC & XMR accepted
Cons:
Single-vendor Drug Darknet Markets
This is the second type of darknet drug markets that I'm including here. As the name suggests, these are single-vendor.
What this means is, in most cases, the admins/owners of these websites are also the sole vendor on the markets. Meaning, no independent, third-party vendors can sell here.
This also means there's no escrow. The vendor is the admin so you're paying directly to the vendor without any intermediary. In some rare cases, the admins do allow external, third-party escrow services.
The ratings/reviews here can't be trusted. This is because the admin can edit/remove reviews according to his/her wishes.
The product-stock too is very, very limited as only a single admin or group sell all the items.
Now, to counter these problems, I took care of a few aspects. For starters, I've only included the very old, established single-vendor markets. Most of these are 2 or more years old.
There are benefits to single-vendor markets as well. Because there's no "commission" that the vendor pays, the prices here are cheaper than multi-vendor markets.
Most of these markets also are wallet-less and accept direct payments.
1. Midland City
Onion URL: http://midcity7ccxtrzhn.onion/
Midland City has a very basic, old, boring interface. But then, it's nearly 5 years old! That's more than most other darknet drug markets listed above!
The market has 11 drug items listed so far. The categories include Dissociatives, Opioids, Benzos, Cannabis etc.
Offers two shipping modes for most orders. Regular shipping costs $7.00, Express shipping priced at $27.00.
Orders aren't exactly automated. An "order ID" is created after placing an order. Once a user makes the payment, he/she needs to contact the market via e-mail with the order ID.
It only accepts Bitcoins for payments.
Pros:
5-year old
Drug-exclusive.
Wallet-less
No registration
Cons:
2. CharlieUK Cocaine Vendorshop
Onion URL: http://charlyuklqm45jjwxwichotzub2ua4uflixvbioleyfuixz57q5lahqd.onion/charlieUK.html
Another very old, established and reputed single-vendor drug market. CharlieUK is actually a vendor who also sells on most other multi-vendor markets listed here.
However, this is his/her personal shop. The prices here are cheaper. As the shop name suggests, it's dedicated to Cocaine.
All the cocaine is sourced from South America. The website sells drugs in pre-specified quantities. You can order 0.3g, 0.5g, 0.7g and so on. Custom quantities can't be specified.
It too only accepts Bitcoin. It is wallet-less market. Again, orders aren't automated. Manual e-mails need to be sent for placing orders.
All logs (both encrypted and encrypted) are permanently deleted once orders are dispatched.
Pros:
4+ years old
Wallet-less
Exclusive to Cocaine.
No registration
Cons:
Doesn't accept escrow anymore (did earlier).
3. Cocaine Market
Onion URL: http://cocain2itdseriirz6akhtukerj7hh6cnkytkgrfjdsxn65rknizbjyd.onion
This market is unique because despite being single-vendor, it requires registration. The order process too is completely automated.
As the name hints, it sells only Cocaine. Peruvian Cocaine, Fish Scale, Uncut Flake, Synthetic, Columbia and many other types of Cocaine is sold. A total of 15 different types are listed.
It allows ordering quantities as small as 1gm, and as heavy as 1kilo. It isn't wallet-less though. Funds need to be deposited to the account wallet. Only allows Bitcoin deposits.
The shipping fee is set at $30.00. The items are shipped from U.S.
Pros:
Cocaine-exclusive.
15+ types of Cocaine available.
Cons:
4. The French Connection
Onion URL: http://abyssou4y5ang24dn4cfkrwd3fsiczx7xg7n7mzlcthrpktfcar6j2qd.onion/
This is one of the oldest and most well-established single vendor markets on this list. The French Connection has a pretty basic interface.
Available products are LSD, Ketamine, Cocaine, Heroin, XTC, Meth, MDMA etc. Some items offer tracking, others don't. Payment is only accepted via Bitcoins.
Registration is mandatory for placing orders. The website and products however can be browsed without registering. Orders can be placed on automation, without sending manual e-mails.
In fact, it is wallet-less. Surprisingly, even provides a pretty professional printable "invoice" of orders! And it doesn't offer any refunds unless the mistake is on their part.
Pros:
Very well-established
Specifically sells drugs
Wallet-less
Cons:
Frequently Asked Questions
If you're very new to the dark web, you may still have some doubts. I'll clear the most obvious doubts with the simplest possible answers
What are "wallet-less" markets?
These are markets which do not have or use "in-built wallets for each account". Meaning, buyers can pay for each order directly from their external, third-party wallets. No advance deposits to the market wallets is required.
This is extremely desirable. Exit-scams are not possible if the market is not holding any funds in user accounts.
What are multisig transactions?
"Multi+Sig" stands for multiple signatures. These are transactions which require at least 2 or 3 signatures to be processed.
Meaning, in a trade, generally the buyer, the vendor and the market escrow is involved. If 2/3 multisig is used, at least 2 of these 3 parties must sign a transaction.
This means no party individually can scam the other 2 parties. In simpler words, markets with multisig transactions are more secure.
What is the security PIN?
It's an additional security feature. On most darknet markets, it's required for making withdrawals, or major account changes.
This makes sure that even if someone's PGP and password are compromised, the funds and account still remains secure.
What is the login phrase?
Phishing is extremely common on the dark web. Hence, some of the best darknet drug markets let the users set a "login phrase" for their accounts.
This login phrase is a sentence/word/anything random. It's displayed on the user's dashboard always and forever.
This means, when a user logs in using a phishing/fake link, he/she doesn't see this phrase. This will trigger an alarm and the user can change his/her account password instantly.
Conclusion- Which is the best of these darknet drug markets?
I'll say both Torrez and World Market are the top drug markets on the dark web right now. It's primarily because of their product-stock, security features, crypto support and established reputation.
Basically, any market which gets buyers what they want is best for them, isn't it? Most single-vendor markets listed here are very well-established as well, however, I'd still prioritize multi-vendors for security reasons.
Basically, go with escrow markets, preferably multisig escrow. Wallet-less markets also deserve priority when possible. Additionally, never use these market without a VPN. With that, I guess I'll sign off this best darknet drug markets list for now.